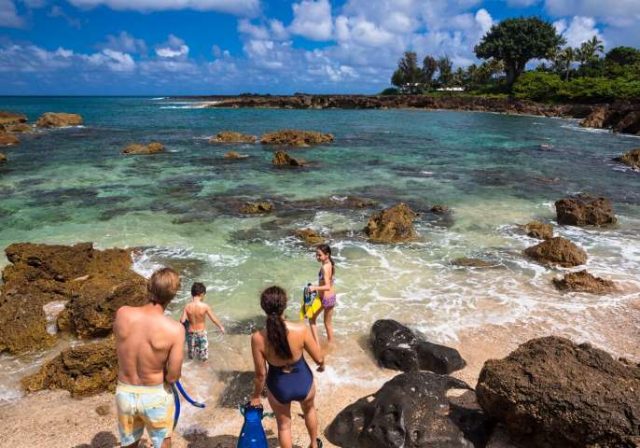 Ohana (family) is deeply rooted in the Hawaiian Islands making it a welcoming destination for families with kids of all ages. From snorkeling and sandcastle building on sun-soaked beaches to exploring volcanoes and sacred cultural sites, the Hawaiian Islands are a natural playground you never outgrow.
Maui Nui is home to off-the beaten path adventures and living history that allows families to learn, bond and inspire each other.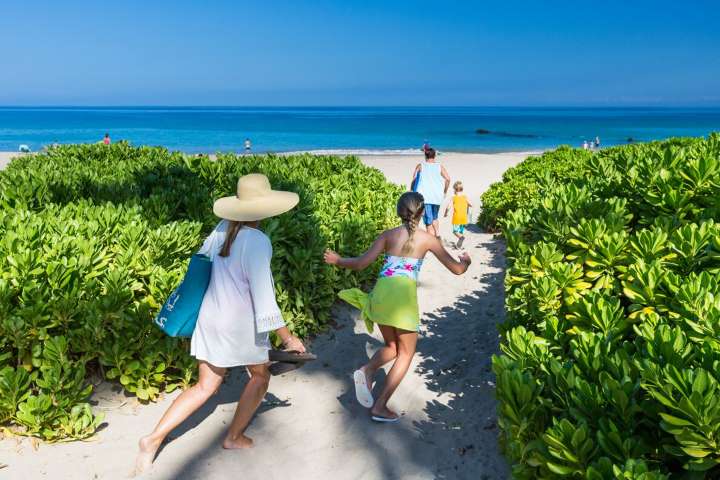 For kids interested in marine life, the annual Great Whale Count on March 28, 2020 allows volunteers to become citizen scientists for the day, helping to count humpback whales from sites along the shoreline of Maui. This event is one of the world's longest-running citizen scientist projects and offers families a chance to explore the island whilst supporting important research.
A Haleakala Sunset Dinner and Stargazing Experience offers families a view of the sunset from the summit, followed by dinner and an evening of stargazing via telescope. Children and adults alike can learn about the night sky, the history of Maui, native Hawaiian culture and local legends passed down for generations. The excursion is a great bonding experience and provides new learning opportunities outside the classroom.
The legendary Banyan Tree of Lahaina celebrates its birthday on April 18, 2020 with a free event including cake, live music, silent auction, Maui artists, and more. Originally from India, the tree was planted in 1873 and has grown from an 8ft tree to a behemoth structure with over a dozen main trunks spread out over two-thirds of an acre. Following the party, keen history buffs can follow the Lahaina historic trail through the town and explore the rich history of the area that inspired Herman Melville's literary classic, Moby Dick.
The Island of Hawaii offers an incredible amount of family fun, from thrilling adventures to authentic Hawaiian culture – with lots of nature and biodiversity in between.
The whole family will be in awe of mother nature when visiting the Thurston Lava Tubes, a 500-year-old lava cave located high up in the Kilauea Crater in Hawaii Volcanoes National Park. Formed when lava flow stops, the Thurston cave is a great example of lava tube geology with 20ft high ceilings in some areas. The solidified flow of the once-liquid lava rock shows the power of the molten forces that created the caves.
For daring kids and parents, the feeling of soaring 250ft over waterfalls and ravines by zipline will be a treasured vacation moment. The Zip Adventure tour offered by Skyline Hawai'i sees visitors speed across 7 ziplines surrounded by picturesque landscapes and ocean views, and has been voted one of Hawaii's best zipline tours.
A day at the beach is a must, and the beaches of south Kona are a great place to go for a postcard-worthy dip in the Pacific ocean with the entire family. The waters are calm and clear – ideal for paddling babies whilst older generations will enjoy countless snorkeling opportunities. Another memorable experience in the area are Manta Ray boat tours, where visitors can snorkel alongside the gentle and graceful ocean giants.
Kauai is home to extraordinary natural wonders, welcoming small towns and pristine beaches, perfect for families looking to reset and rejuvenate in nature.
The Garden Isle, as Kauai is described – is a hiking paradise. Active families will be eager to lace up their walking boots and explore Waimea Canyon which stretched 14 miles long, 1 mile across and 3,600 feet deep. Hawaii's answer to the Grand Canyon, the panoramic views of rugged crags and valley gorges seem never ending. A variety of trails cater to beginners and seasoned hikers, so families can take their pick.
Spread out over 104 acres, the Kilohana plantation is a historic landmark, botanical garden and orchard property and the finest example of plantation architecture on Kauai. The friendly and funny conductors will entertain riders on the plantation railway whilst pointing out the orchards and fields where more than 50 types of fruits and vegetables grow. Midway through the journey, all members of the family will delight in visiting the farmyard and seeing wild pigs, sheep, goats, horses and donkeys.
In late September, visitors can enjoy the Kaua'I Mokihana Festival, a series of events in celebration of Hawaiian culture. Families can try their hand at coconut (Ka niu) weaving during a cultural workshop whilst learning about why the niu was foundational to a thriving early Hawaiian society. Music competitions encourage local singer/songwriters to compose new music in various categories including contemporary Hawaiian. Hula competitions include Aulana, a modern interpretation of the tradition sees participants show a contemporary hula flavour.
Oahu presents a variety of action-packed activities for families, from historical sites and cultural learning to zoological marvels.
The world -renowned surf town of Haleiwa welcomes visitors with epic surf breaks, food trucks, delicious shaved ice stands (the Hawaiian version of a snow cone). Active kids can take to the water with the help of a local surf school, whilst adults can take some time out and explore the boutique stores, diverse eateries and laidback country ambiance.
Knowledge sponges in the family will love spending time at Bishop Museum, the premier natural and cultural history museum in the state. Signature galleries including the fascinating Richard T. Mamiya Science Adventure Center, where visitors explore areas of science in which Hawai'i has gained international recognition for cutting edge research – including volcanology, oceanography, and biodiversity.
No Oahu trip would be complete without escaping the hustle and bustle of Honolulu to hit the open road. Rent a family friendly vehicle and explore the two lane highway along the Windward Coast. Along the way visit Byodo-In Temple (meaning Temple of Equality) where peace and tranquility resonate through the tropical flora and fauna, small waterfalls and serene Koi ponds. Make a point to stop for a plate of garlic shrimp or delicious poke bowl between the towns of Haleiwa and Kahuku – the best stalls have the longest line up.