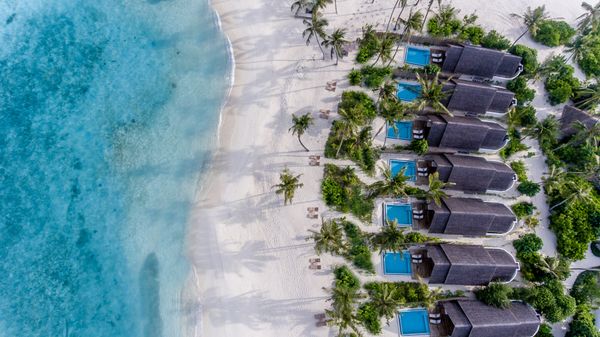 Hot on the heels of launching its Maldivian Mind, Body & Soul Retreat featuring the Maldives' hottest female wellness guru's, Fushifaru Maldives announces its first MMA Retreat in collaboration with professional MMA/ Muay Thai and ONE Championship fighter, Saiful Merican and Maldivian Muay Thai trainer and Fushifaru Wellness Guru, Kai this June 19th – 21st, 2018.
With over 130 fights to his name, renowned ONE Championship fighter and former World #1 Muay Thai kickboxer (57KG) Saiful Merican, will be bringing his ring-ready techniques and drills to the island for guests to sign up and test their strength, stamina and agility on the beach. Joining him will be Maldivian expert trainer, Kai, who will be bringing her signature brand of strength conditioning and training to the retreat. A certified trainer for over ten years, Kai has participated in various sporting events, conducts her own bootcamp in the Maldives and retreats around the world, including running a marathon barefoot in Athens.
Mixed Martial Arts, or more popularly known as MMA is the fastest growing sport in the world. It encompasses both stand-up and ground skills using techniques from various other martial arts such as Brazilian Jiu-jitsu, Wrestling, Judo, Muay Thai, Sanda and many more. As the Vice President of the Malaysian MMA Association (MASMMA), Saiful is one of the country's pioneer professional MMA fighters. He transitioned to MMA in 2013 after competing in hundreds of Muay Thai fights from the tender age of 11. "I wanted to test myself and keep learning other disciplines. MMA workouts challenge your mind and body to push yourself to its limits," says Saiful. The customized workouts are designed to train your entire body with a focus on strength and endurance. The intense combat drills test one's physical and mental stamina. Experience what it's like to train like a pro athlete and recover after with our spa treatments curated exclusively for this retreat.
Our VIKs (Very Important Kids) will not be left out on this retreat! Kids aged from 6-12 can join the MMA Kids Retreat to learn and adopt a great active and healthy lifestyle through mixed martial arts. Not only will they learn self confidence and discipline, they will have fun doing it! Fushifaru's 'Family Fantastic Offer' where up to two kids under the age of 12, stay and eat for free on the same board basis as their parents, would be the perfect reason to book.
Located on the far North East border of Faadhippolhu Atoll – more popularly known as Lhaviyani Atoll, the exquisite little island of Fushifaru is home to an extraordinary landscape above and below the waterline. With 'Fushi' meaning 'island' and 'Faru' meaning 'reef' in the local Dhivehi language, this boutique Maldivian chic island is the perfect getaway for a digital detox and a little soul searching.
With 49 beach and water villas that exude luxurious coziness with carefully selected amenities, choose from 18 beach villas with private plunge pools, 26 beach villas and 5 water villas. Each features stunning outdoor bathrooms, large outdoor decking, 43" IPTV, Egyptian-cotton linen and 24-hour personalised Resident service.
Fushifaru 3-Day MMA Retreat includes:
19th June
Warm Up & Stretching
Wrap Hands
Stand Up Techniques – Muay Thai Shadow Boxing
Muay Thai Pad Work
Technique Drills
Strength & Conditioning (with Kai)
Wrestling Drills
Cool Down
60 Minute Fit Body Massage – Designed to encourage blood flow, stretch muscles and ease joints
19th June
Warm Up & Stretching
Ground Techniques – Jiujitsu Drills
Takedowns
Boxing Drills
Strength & Conditioning (with Kai)
Cool Down
60 Minute Fushi Deep Tissue Massage – Perfect for post-intense activities to target those deeper layers of muscles, connective tissue to help increase muscle flexibility
21st June
Warm Up & Stretching
Running
Shadow Boxing
Stand Up & Ground Techniques (incorporating both Muay Thai & Jiujitsu)
Light MMA Sparring with Saiful
Strength & Conditioning (with Kai)
Cool Down
30 Minutes Tension Release Back Massage – Focused on releasing muscular tension in the back and improve circulation.
Seaplane transfers are additional. Prices are subject to change.
For more information visit www.fushifaru.com.