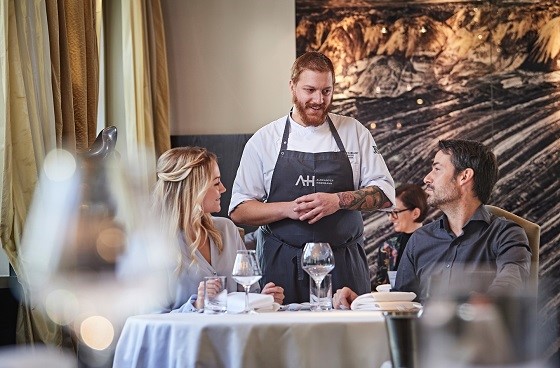 Germany's gastronomy scene continues to shine as the Michelin Guide announced the country's latest roster of Michelin-starred restaurants. A total of 274 restaurants across the country received the prestigious Michelin star for 2023, solidifying Germany's reputation as a culinary destination worth exploring.
The new Michelin-starred restaurants in Germany include 34 restaurants awarded one Michelin star for the first time. Among the newly minted one-star restaurants are innovative eateries like Bonvivant in Berlin with its exclusively vegetarian and vegan cuisine, and the mural farmhouse – FINE DINE in Munich which was honoured with the Green Star for its inspiring sustainable practices. Another notable one-star newcomer is the Sahila – The Restaurant in Cologne, where Julia Komp skillfully puts her many exciting culinary impressions into practice after a trip around the world. The gastronomic scene in Münster (Westphalia) is also of a high standard with two new One-MICHELIN Star restaurants, BOK Restaurant Brust oder Keule and Spitzner.
These new Michelin-starred restaurants showcase the diversity and innovation of Germany's gastronomy scene, which continues to captivate food lovers from around the world.
Germany's Michelin-starred restaurants are located throughout the country, from the cosmopolitan cities of Berlin and Munich to the picturesque towns of the Rhine Valley and Bavarian Alps. These restaurants offer visitors a chance to explore the diverse regional cuisines of Germany, from the hearty meat dishes of Bavaria to the fresh seafood of the North Sea coast.
Travellers looking for a culinary adventure can indulge in the flavours of Germany at Michelin-starred restaurants like Aqua in Wolfsburg, where Chef Sven Elverfeld creates dishes inspired by the region's natural landscapes. Or they can experience the creative culinary concepts at Atelier in Munich, a modern cuisine that draws on classical as well as Asian influences.
Germany's Michelin-starred restaurants also provide a chance to experience the country's rich cultural heritage, from the elegant Art Nouveau interiors of Lorenz Adlon Esszimmer in Berlin to the historic wine cellar of Schloss Berg in the Northern Black Forest.
"Germany's Michelin-starred restaurants offer visitors an unparalleled culinary experience," said Anja Brokjans, Director of the German National Tourist Office Canada. "The diverse regional cuisines, innovative culinary concepts, and stunning locations make Germany an ideal destination for food lovers and travelers looking for a unique experience."
The full list of Michelin-starred restaurants in Germany for 2023 can be found on the Michelin Guide website.