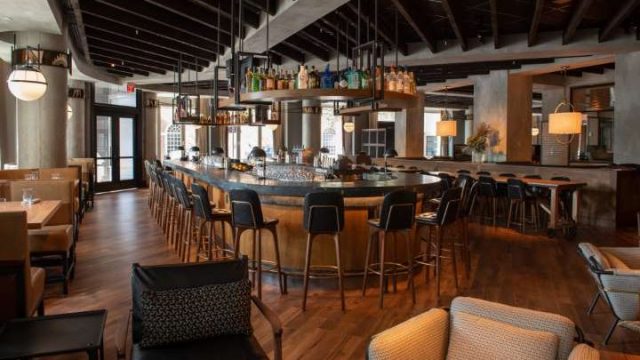 Plough, a new dining concept to open in the heart of Lancaster City's historic Penn Square, officially opened today. Located at 25 South Queen Street, Lancaster, Pa., Plough will pay homage to the region's rich heritage while embracing modernity. Debuting a sophisticated, modern-American menu, Executive Chef Ryan McQuillan will dazzle guests using local ingredients with seasonal flair, preparing dishes in an open kitchen visible throughout the dining room. Furthering the historic town's vibrant social scene, a sleek bar floating in the center of the room will become a place to gather.
Serving dinner daily, Plough will utilize local ingredients sourced from the region's farmlands. Inspired by the season, inventive dishes such as the Guitar Cut Spaghetti in the summer, will join American classics and favorites including: the Rotisserie ½ Chicken, the Cowboy Ribeye and the Pan Seared Coho Salmon.
"With an abundance of seasonal ingredients, we have the ability to surprise guests with daily printed menus," says Chef McQuillan. "Incorporating a French-technique will also add a level of sophistication that transforms a staple dish into a signature item."
Complementing Plough's commitment to fresh, local ingredients, Plough has crafted a robust beverage menu, featuring signature handcrafted cocktails, wine by the glass selected from an extensive list, as well as crowd pleasing beer sourced from regional craft breweries.
With indoor and outdoor dining areas, Plough offers seating for up to 190 guests, including a private dining room with an al fresco patio for private events. Plush booth seating and long farm tables create a welcoming atmosphere where the historic setting meets modern, urban style. The open kitchen places the culinary staff center stage as guests watch their dishes being prepared firsthand, alongside a large rotisserie oven showcasing the roasting process and the team's commitment to modern-American cuisine. The long oval bar in the center of the room creates a community for guests to dine and socialize.
"Plough is going to make a statement in Lancaster," said Michael McCoy, General Manager of Plough. "Our talented team's experience ranges from local to regional, and I'm confident that our restaurant will become a sought-after dining destination for both locals and travelers."
More information about Plough can be found online at ploughrestaurant.com.