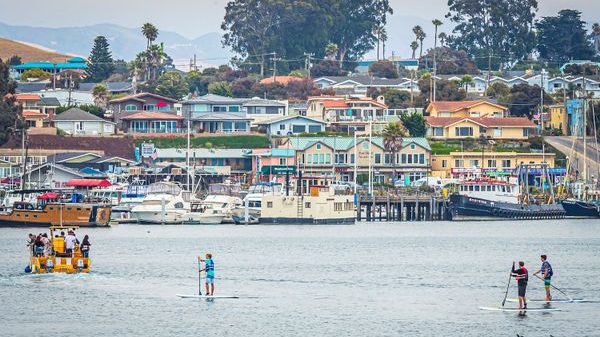 Before we say goodbye to long summer days, make some final summer memories along coastal Highway 1 in Morro Bay, CA. How, you say? Check out these four quintessential Morro Bay adventures and lots of great :15 videos featuring fun #outdoorgoals in this unspoiled slice of the California Central Coast.
Picnic out on Pristine Sand Dunes by Kayak
Kayaking in Morro Bay is a spiritual experience and picnicking on the uninhabited sandspit is pure magic. First, pick up a healthy lunch from locally owned and operated Goddess Goods, and don't forget to pack your favorite bottle of local vino from Central Coast Wine Sellers or STAX Wine Bar & Bistro. Second, rent a kayak from the Kayak Shack located in the Morro Bay State Park marina and you are off! Watch this :15 second video of kayakers heading out to the sandspit. With just a few strokes, you are one with nature, passing sea otters, harbor seals and pelicans while taking in long-distance views of the bay, sand dunes, Morro Rock and the coastal hills. Paddle over to the unspoiled sandspit, a unique barrier of sand dunes separating Morro Bay from the Pacific Ocean, only reachable from Morro Bay by boat. Crown the day by paddling into the Morro Bay National Estuary, a reserve filled with mud flats and channels that house two oyster farms, and over 200 migratory sea and shorebirds. #wildmorrobay #pristinesanddunes
Surf's Up, Dude!
September 20, 2019 is officially California Surfing Day, and as the last days of summer wane, it's time to get out and get in the water! Morro Bay is renowned for its all-around epic #surfculture, iconic surfing at Morro Rock, and miles of wide-open sandy beaches with awesome surf breaks. Catch this sweet :15 video of surfers at Morro Rock. In fact, you can catch the pros take to the waves at the brand new SLO CAL Open at Morro Rock February 27 – March 1, 2020, organized by the World Surf League. But you don't have to be a pro to surf in Morro Bay, in fact, now's the perfect time to take up surfing as the end of summer crowds thin out. Learn how to catch a wave by booking a lesson at the Morro Bay Surf Shop / AzHiAzIaM or Wavelength Surf Shop. They have all the equipment rentals you'll need and instructors to get you standing on a board in no time. Morro Bay is also the perfect spot for kite surfing too – check out this cool :15 second video! #morrorock #surfsup
Finally Learn to Paddleboard!
If you haven't yet, this is a true #outdoorgoals experience! Morro Bay Stand Up Paddleboarding is a family owned and operated company ready to supply everything visitors need to get into the sport of stand-up paddleboarding (SUP). These trusted experts have an Academy of Surfing Instructors (ASI) Accredited SUP school and offer beginner, intermediate, and advanced lessons for all ages, group sizes and skill levels – including SUP Yoga and SUP for PUPs! Morro Bay offers the most approachable flat-water paddling along the Central California Coast and some of the most scenic paddling anywhere in California. The bay is a large marine and bird sanctuary providing views of Morro Rock, pristine sand dunes over one-hundred feet high, and scenic tributaries flowing into the bay. Zen out for a few with this :15 second video of a SUP Yoga class in session. #supwithpups #supyoga
Ride Like the Wind
Morro Bay makes it super easy to ride your bike, surrey or beachcomber around town, offering miles of pristine beaches, trails, paths and designated bike lanes all detailed on this city bike map. It shows great mountain biking and hiking trails on Black Hill and Cerro Cabrillo, both offering great views of the estuary and Pacific – click for a quick video. There are many great road cycling day trips accessible from Morro Bay that wind through backroads and wine country, and it's a relaxing coastal location with plenty of great restaurants, wine bars and pubs to help you recover after your ride. Also, Highway 1 offers unparalleled views of Morro Bay all along Estero Bay up to Cayucos and beyond. Check out this scenic :15 video cycling along Highway 1 from Morro Bay. Didn't bring your bicycle? Not to worry. Surreys and beachcombers are available for rent at Beachfront Kites & Surreys located on the Embarcadero. And, let's not forget that the Morro Bay BMX-style bike park, the only official course of its kind in San Luis Obispo County, is open from sunrise to sunset and is free to riders of all ages. #morrobaybasecamp #morrobaybeaches
For more information on traveling to Morro Bay before the end of summer, visit www.morrobay.org.