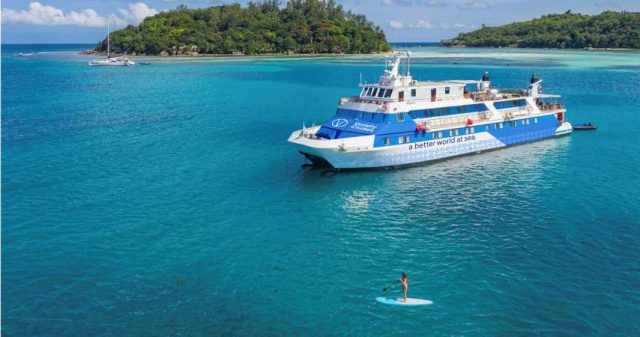 Dedicated to its pillar of Gender Equality, Variety Cruises, Greece's leading small ship cruise company is a long-standing member of the International LGBTQ+ Travel Association (IGLTA), a strong supporter of the Trevor Project, the leading suicide prevention line for queer youth, and is one of the first cruise lines to implement optional preferred pronouns in its day-to-day operations to support diversity and gender expression. 
Constantine Venetopoulos, Director of Communications & PR for Variety, part of the third generation of this Greek and family-owned cruise line, will be joining guests on board this year's Limited Collection LGBTQ+ itinerary which sets sails on October 28, 2023. Constantine has been a volunteer counselor of The Trevor Project, whose mission is to end suicide among LGBTQ young people since 2011, and is also the director of the film Draw With Me which was the first documentary on transgender history to be presented at the United Nations during the 50th anniversary of the Stone Wall riots. He now vigorously leads the Gender Equality pillar of the Variety Cares foundation.  Celebrating Pride Month by showcasing its continued commitment to LGBTQ+ travelers and its support for the community, the cruise line is offering a limited time offer for its LGBTQ+ Cruise in the Seychelles. The cruise highlights include an Off-Broadway-at-Sea night led by a guest host, influencer, actor and model Edward Pishiyski and soft adventure tours exploring the beauty and rich culture of the destination.
The Seychelles are famous for being the perfect destination for both summer and winter cruises due to its warm climate, and voyagers get to enjoy this paradise and experience a unique island-hopping adventure that is only really possible with a small boat. This eight-day itinerary is a round trip to Mahé island and takes passengers to multiple destinations where they get to explore the extraordinary fauna and flora within a yacht environment. Optional excursions offer further opportunity to dive into a breathtaking underwater world or walk through tropical jungles and capture heavenly beaches.