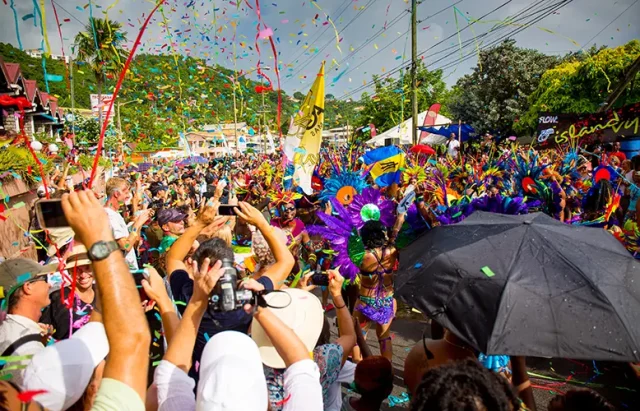 Grenada will be buzzing to the sweet sounds of calypso and soca music as its beloved carnival, Spicemas, takes over the destination from August 1-15. The annual marquee event, which sees thousands of Grenadians and visitors descending on the destination, is a cultural celebration showcasing a variety of colorful and immersive week-long activities that reflect the destination's African, French, British and Caribbean ancestral heritage.
Grenada, known as the Spice Isle of the Caribbean, names its annual carnival Spicemas as a nod to the island's production of the most spices per square mile in the Caribbean region. Last year's event, which was its first after a two-year hiatus due to the pandemic, was so well attended that the anticipation of this year's celebration started early with a Spicemas launch event in Brooklyn, New York in May, where attendees were treated to an authentic cultural experience, including traditional aspects associated with carnival.
"We wanted to give New Yorkers a taste of what they can expect come August in Grenada," said Petra Roach, CEO of the Grenada Tourism Authority. "By all accounts, the event was a massive success, and it was a beautiful run up to the celebration we have planned here in Grenada. The pure energy that reverberates throughout the destination is something we all look forward to experiencing and sharing with the world. It is by far the best expression of carnival and this year's will be unforgettable."
This year's event will feature new compliments and concepts different from previous years. Revelers can look forward to several events taking place across the island all leading up to the event's climax, Carnival Monday and Tuesday. Events include:
August 5th – Children's Carnival Frolic
August 6th – Majestic Sunday – National Carnival Queen Pageant
August 10th – Calypso Finals
August 11th – Bacchanal Friday –Groovy & Soca Monarch
August 12th – Panorama
August 14th – J'ouvert/Pageant/Monday Night Mas
August 15th – Parade of Bands/Last Lap
In anticipation of the number of visitors Spicemas will draw, JetBlue and Caribbean Airlines have expanded their service to the destination. JetBlue, currently offering daily nonstop service from New York's John F. Kennedy (JFK) airport, will operate a second daily nonstop flight from August 7 to September 1, departing at 9:50 p.m. and arriving at Grenada's Maurice Bishop International Airport (GND) at 2:47 a.m. The returning flight departs GND at 5:01 a.m. and arrives at JFK at 9:57 a.m. Caribbean Airlines' expansion, which will take place in the U.S. and Canada with direct flights on August 8 & 11 and August 7 & 8 respectively, and Trinidad with increased passenger capacity.
Petra Roach remarked, "the expanded connectivity is a true testament to Spicemas' appeal. It's a celebration not to be missed and the extra service makes it possible for even more people to witness our culture come alive here in Grenada." For additional information on Spicemas, please visit: www.puregrenada.com/events/spicemas-2023/.