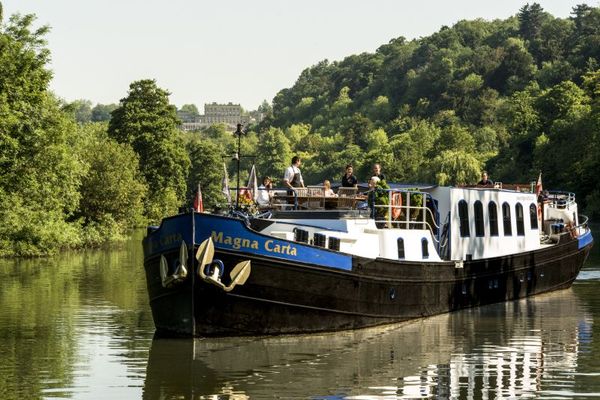 In celebration of the highly-anticipated wedding of Prince Harry and Meghan Markle at Windsor Castle, European Waterways is launching a new and exclusive "Royal Cruise", which navigates the River Thames aboard the 8-passenger Magna Cartahotel barge. Created through special arrangements between European Waterways and members of several historic households, the cruise itinerary gives guests the "royal treatment," with private, guided tours of fabulous castles and stately homes, as well as onboard luxuries and gourmet meals "fit for a king." Among the highlights, the vessel moors beneath Windsor Castle and guests enjoy a behind-the-scenes tour that includes St Georges Chapel – venue for the pending nuptials – led by a serving Military Knight.
Available for the 2018 and 2019 seasons as a whole-boat charter of the Magna Carta, prices start at £33,000, which is £4,160 per person for the 6-night, all-inclusive cruise. Due to the popularity of the itinerary, departures in 2018 for a "Royal Cruise" charter are limited. However, cabins for "Classic Cruises" are still available, which offer similar itineraries at a lower cost – though without some of the exclusive features of the Royal Cruise. These include cruises that will pass by Windsor Castle in the weeks after the wedding on May 19.
"This 'Royal Cruise' provides guests with an incredible opportunity to stand on some of the most iconic grounds where kings, dukes and earls once walked, in the company of actual descendants of these royal lineages," said Derek Banks, managing director of European Waterways. "Thanks to the wedding, Windsor Castle looms large on the itinerary, but it is just one of the many sites and attractions enjoyed by guests as they cruise one of the most idyllic stretches of the River Thames."
Throughout the special Royal Cruise, the legendary beauty of the English countryside is on full display, populated by royal palaces, majestic homes, and sites steeped in British history. Among these is Highclere Castle, home of the Earl of Carnarvon and the "real" Downton Abbey, where guests will be given exclusive access to the house and grounds in the company of members of the household. Guests also visit Stonor Park, one of the oldest, and still inhabited, stately homes, where the Honorable William Stonor, son of the present Baron Camoys and heir to the title, welcomes them with a private tour.
Other exclusive tours include Dorney Court, a 15th Century Tudor Manor House that should be well-known to fans of master sleuth Hercule Poirot, as many of his escapades were filmed here. Guests will also indulge in a traditional English afternoon tea at the 350-year-old Cliveden estate, former home to William Waldorf Astor, and enjoy a tour of the grounds that include a Parterre, Chinese water garden and topiary. At tea, they will be regaled with a "butler's talk" from a Cliveden staff member that encompasses the intrigues, secrets and scandals of aristocratic life over the years.
Ship-Shaped
Originally built in the 1930s, the Magna Carta's design and interior décor reflect the charm, grace and elegance of its English surroundings. A true "floating country house hotel," it features generous use of fine mahogany, teak and oak woods, and a spacious saloon and dining area with large, picture windows. The décor is complemented by modern conveniences such as underfloor heating, air conditioned en suite cabins, and Wi-Fi.
"Whether walking the historic estate of Henry the VIII's Hampton Court Palace, on a personal guided tour by a member of the palace community, or cruising past the Magna Carta Memorial – the actual site where the document was sealed – the 'Royal Cruise' offers a true immersion into British history and its royal families," said Banks.
About European Waterways: Hotel Barging is a boutique, unique experience which offers an immersive, all inclusive "gentle voyage of discovery" that focuses upon the culture, history, fine wine and gourmet cuisine of the region. With a 6 to 20 person capacity and 1:2 crew to guest ratio, European Waterways is able to provide an impeccable level of on board service and can transport their guests on the intimate inland waterways that are inaccessible to larger vessels. This fascinating network of smaller canals allows for flexibility, spontaneity and ample opportunity to hop off and explore the beautiful surroundings via bicycle or on foot. In addition to this there are daily chauffeured excursions "off the beaten track" to a wide variety of enthralling locations, from exquisite wine tastings to private tours of stately homes. With over 40 years' experience and a fleet that spans nine countries it is the largest luxury hotel barging company in Europe.