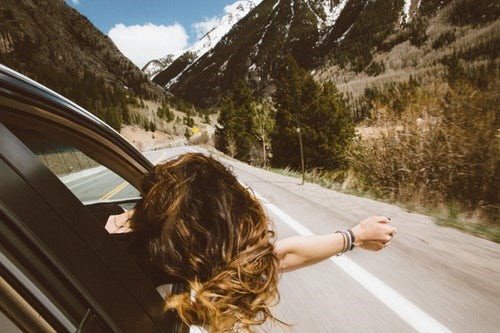 When summer rolls around, nothing beats a good old-fashioned road trip. There's something special about driving somewhere with your friends with the windows down, a solid playlist and endless road snacks.
Ontario is home to lots of hidden gems and small towns sure to satisfy everyone's inner adventurer. And many of these spots are a short drive from Toronto! Though there are far too many destinations to list, here are just some of the adventures you can take this summer, all within three hours from Toronto.
Elora Quarry – Elora, Ontario
Just two hours away from Toronto sits a magical oasis. Nestled in Wellington County, Elora Quarry is a popular watering hole for beachgoers in the summer. Guests can enjoy swimming in the quarry which, surrounded by cliffs on three sides, feels secluded and hidden. As a cool plus, Elora Quarry was used in the filming of Stephen King's It. Just down the road, guests can also go rafting down the Elora Gorge after a fun day at the beach.
Hamilton Waterfalls – Hamilton, Ontario
Located a short 1.5-hour drive west of Toronto, hikers and outdoor enthusiasts will find a collection of waterfalls hidden in Hamilton, Ontario. Spectacular sights such as Albion Falls and the Devil's Punchbowl are the reward after a hike through the wooded paths. Refresh your body with a splash in the waterfalls before heading back on your adventure.
Niagara-On-The-Lake – Niagara, Ontario
Niagara-On-The-Lake has something for everyone. Located two hours outside Toronto, visitors can enjoy everything from wining and dining to bike trips and museum visits. Known for its many vineyards and wineries, Niagara-On-The-Lake is a must-see for any wine lover. Visitors can even rent bikes to travel between wineries. Walks along the river and immersing yourself in history at Fort George are also on the agenda. At the end of the day, road trippers can wind down and enjoy a delicious dinner at one of the many restaurants lining Queen Street, such as the Prince of Wales hotel. For something different, try a scrumptious dinner at Peller Estates winery.
Blue Mountain – Collingwood, Ontario
Drive 3 hours west and you'll land yourself in Collingwood, Ontario. Known as a ski and snowboarding destination in the winter, Blue Mountain is also a haven for hiking, biking and treetop trekking in the warmer weather. Visitors can zipline through the forest and check out the many caves in the area. Not into hiking? Relax for the day at Scandinave Spa, where you can enjoy a day in the baths and a full menu of massages.
Port Dover Beach – Port Dover, Ontario
Beachgoers and wine enthusiasts alike flock to this summer destination, just two hours from Toronto. In the summer, visitors can feel like they're on a real Caribbean beach right at home, with sunny beaches decorated with real palm trees. After a little fun in the sun, visitors can wind down with a sunset dinner at The Beach House, located right on Port Dover Beach. Water and sand not your thing? Port Dover has several wineries for those looking to enrich their inner sommelier, including Dover Vineyards and Villa Nova Estate Winery.
Get your friends together for that perfect road trip this summer. Don't forget to make sure your car is in top shape to handle the fun!
Travel Tip: A little preventative maintenance can go a long way in saving you money. An OK Tire certified technician can check for things like a dirty air filter, which can make your fuel economy drop by up to 15%. That's a lot of gas money better spent on your adventures. Get everything checked out before you hit the road and keep your money in your pocket. Happy travels!