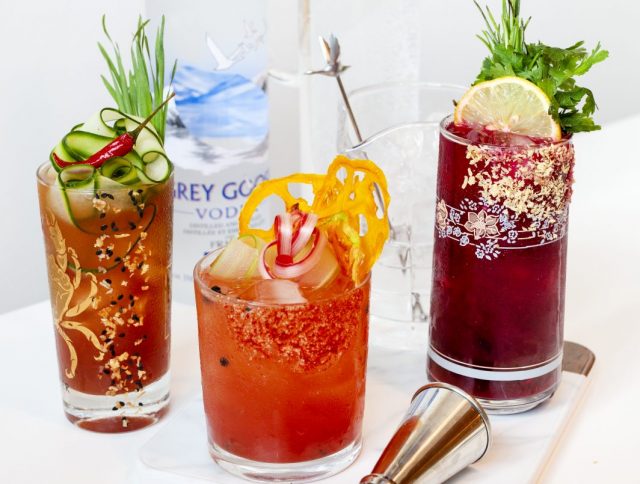 GREY GOOSE – CAESAR COCKTAILS
GREY GOOSE THAI CAESAR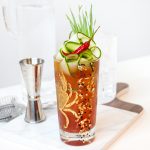 1.5 GREY GOOSE Le Citron 1 Thai chili, crushed
1/2 oz ponzu
2-3 dashes of rice vinegar 1/2 oz fresh cucumber juice 3 oz clamato juice
Method: Muddle Thai chilli in your glass. Add the rest of the ingredients. Add ice and stir, and ensure everything is combined.
Garnish: cucumber ribbons
Rim: sesame seeds & Togarashi spice mix
GREY GOOSE BEET CAESAR
1.5 GREY GOOSE l'Orange 1 blood orange
1 oz beet root juice 1/2 oz lemon juice
3-4 dashes of tabasco
3-4 dashes of Worcester 3 oz caesar mix
Method: Always rim first. Ice all the way to the top, add ingredients and stir well.
Garnish: bouquet garnish of herbs with parsley
Rim: dehydrated parsley root blitzed with Za'atar spice and salt
GREY GOOSE STRAWBERRY-RHUBARB CAESAR
1.5 GREY GOOSE L'original 1/2 oz lemon juice
1 oz strawberry/rhubarb shrub 3 oz caesar mix
1 pinch smoked paprika
1 pinch black pepper corns
Method: Add Ice and shake. Pour ingredients over fresh ice into your rimmed Rocks glass.
Strawberry Rhubarb Shrub: cut a pint of strawberries into half. Cut 8 oz (about two stems) of rhubarb into half inch pieces. Cover with 1 cup of sugar and let it macerate for at least 2 hours to a day in the refrigerator. Add 1 Cup of apple cider vinegar and let it sit an additional 2 days in the fridge. Strain out, bottle and refrigerate.
Garnish: toasted cherry tomatoes still on the vine or dehydrated tomato slice
Rim: salt, chili, pepper, cracked black pepper
---
1. STEP UP YOUR RIM GAME
Replace the go-to celery salt with some delicious specialty rims made with everyday items from your pantry. Get creative with Canada's national cocktail – pull from your favourite dishes and spices and modify to your specific taste. The rim should always be well balanced – salt, spice, and even sugar.
RIMS INSPIRED BY DISHES:
SUSHI – sesame seeds, salt, panko crumbs
MEDITERRANEAN FLAT BREAD – za'taar spice, salt, chili powder
COUSCOUS – smoked paprika, cumin, salt
RIMS INSPIRED BY SPICES:
NORI SALT – combine a dry sheet of seaweed or nori from a sushi roll and throw it in a blender for a few sounds. It can be found in the Japanese aisle of your boutique
ESPELETTE SALT – combine smoky French peppercorn, ground espelette, and regular salt.
TRUFFLE SALT – available at boutique
HIBISCUS SALT – pick up dry hibiscus at your local boutique grocer or food market – simply blend with regular
2. CREATE A TWIST ON THE CLASSIC CAESAR
Tomato goes well with not only vegetables but also fruits! Pull inspiration from a beautiful fruity salad. Juice berries or citrus and add to your Caesar or add whole. Jazz it up with Grey Goose's flavoured vodkas like L'Orange or Le Citron.
Hot sauces and fresh hot peppers are great to experiment with. Dash in a mix of condiments in your cupboard – anything sour, sweet, spice or salty works! Play around with a variety of oils, vinegars, and condiments – all ingredients that can easily be combined to make a delicious Caesar.
3. PRESENT SOMETHING EXTRAORDINARY
Steer away from the go-to celery stalk, pickled bean or olive. Step it up a notch with eye-catching garnishes like shaved celery ribbons, lobster claws, jumbo crab legs, dehydrated tomato slices, and more. The Caesar makes for the perfect snack – scallops, mini sliders, caviar, and oysters are also great! Vegetable ribbons can be made with a vegetable skin peeler, curl up the peels and store in ice water to preserve the shape. Everything from celery, heirloom carrots to rhubarb ribbons – the options are endless!
Stock up your home bar and pre-make all your garnishes and dehydrate. Once dry, store in a mason and you're good to entertain all summer long!
GARNISHES:
WRAPS – make a delicious wrap using a leaf, endive, or lettuce. Ingredients can include: citrus or avocado tartar, shrimp ceviche, tuna or celery salad – pin it together using a cocktail
PICKLED ITEMS – cauliflower, beets, carrots, devilled eggs! Experiment with different
PROTEIN – spiced charcuteries & cheeses will make the Caesar a mid-day
HERBS – Herb bouquets make delightful garnishes and any herb goes with a Caesar. Parsley, rosemary, and thyme are the perfect
BERRIES– Don't be afraid of the berry – blackberry, raspberry, strawberry – the list goes on!