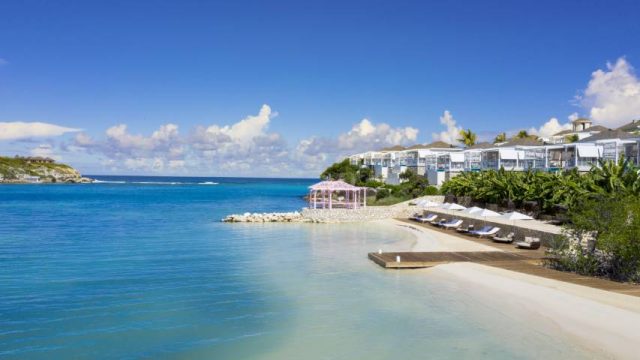 Antigua is a stunning island located in the heart of the Caribbean. With its white-sand beaches and turquoise waters, Antigua is a popular destination for travelers looking to escape to paradise. There's plenty to do on Antigua, from exploring the lush rainforest to lounging on the beach. The locals are friendly and welcoming, making Antigua a perfect place to relax and soak up the Caribbean culture. If you're looking for a tropical getaway, be sure to add Antigua to your list!
Evoking true summer vacation nostalgia, the luxury, all-inclusive resort for adults only, Hammock Cove on the Caribbean island of Antigua launches the "Summer Throwback" package which includes everything—except the chaperone. Villas with king beds, spacious terraces with private swimming pools overlooking the aquamarine waters, swinging hanging chairs and your own stocked bar are just some of the inclusions. 
With the "Summer Throwback" package, guests will also have fun with stand-up paddle boarding, rum tastings, unlimited cocktails, afternoon tea, meals and all-day snacks created by the resort's Executive Chef Marco Festini, who has worked at some of the world's top, Michelin-starred restaurants. Even room service is included, as are the floating water hammocks.  
And for those looking for a little bit of summer camp nostalgia, the hotel even has two pickle ball courts, which is the hailed as the current day badminton. What's more, located upstairs in the Great House of the hotel, the Chairman's Lounge is an analog throwback featuring classics like billiards and chess, board games and a record player with a curated library of vinyl. The bar offers premium liquor, Champagne, and a Caribbean rum selection created by the property's rum sommelier. You can even create your own boozy milkshakes when normal ice cream won't do (Antigua boasts some of the best rum in the Caribbean), and then retreat to your private pool for an adults version of Marco Polo—tag, you're definitely it.