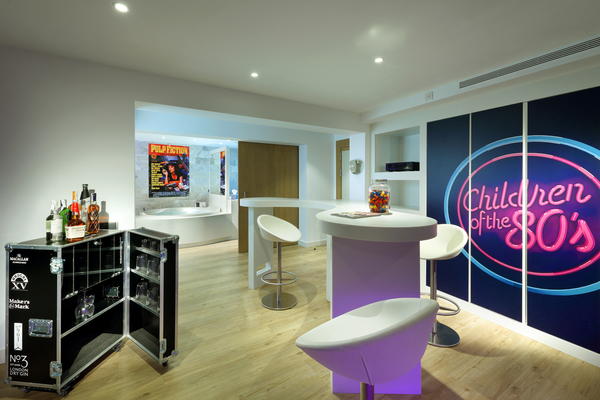 In line with Hard Rock Hotel Ibiza's ambition to constantly evolve with new styles and concepts, the spacious 80s themed suite brings a touch of the 80s to the hotel and music venue with its distinct neon colour scheme and 80s-inspired décor.
Complemented by a range of luxury touches that feature in all the hotel's suites such as a jacuzzi and enviable sea views, guests can expect authentic rock star treatment with a twist.
Those opting to stay in the new suite will also get to enjoy a whole host of activities inspired by the 80s such as a Nintendo (NES Classic Edition) with games such as Mario Bros and Popeye, a doll with a rotating disco ball head, a cassette player with some of the favourite music anthems of the decade, as well as 1980s-inspired posters, vinyl and classic 1980s sweets and treats.
If the stay falls over a Friday, guests staying in the 80s suite will also be given access to the VIP area of the 'Children of the 80's' event, including a complimentary drink. On any other night of the week, they can enjoy a drink at The Ninth; one of Ibiza's most impressive sky lounges with panoramic views of the Mediterranean Ocean.
The new suite is the perfect complement to the now iconic Children of the 80s event celebrated each Friday at Hard Rock Hotel Ibiza. Featuring some of the biggest artists of the 80s, 'Children of the 80's' brings the true spirit of the 80s to the Ibiza beachfront with hip-shaking nostalgia and guaranteed feel-good vibes.
The 80s suite can be booked via www.hrhibiza.com