The languid Languedoc region is one of Southern France's best kept secrets. While the Côte d'Azur draws the crowds, the Languedoc moves at a slower pace with a blissfully unspoiled, authentic charm. This idyllic wine-making region is the setting for three remarkable vineyard estates, created by Domaine et Demeure. Founded in 2008 by dynamic husband-and-wife duo Karl and Anita O'Hanlon, this visionary company excels at lovingly restoring historic chateaux in a sensitive, sustainable way. Now a new Languedoc Discovery Tour lets you play join-the-dots with their trio of magnificent properties, spending two nights in each. It's the perfect grown-up escape, combining elegant surrounds with understated luxury, effortlessly stylish accommodation and, of course, stellar wines.
Château St Pierre de Serjac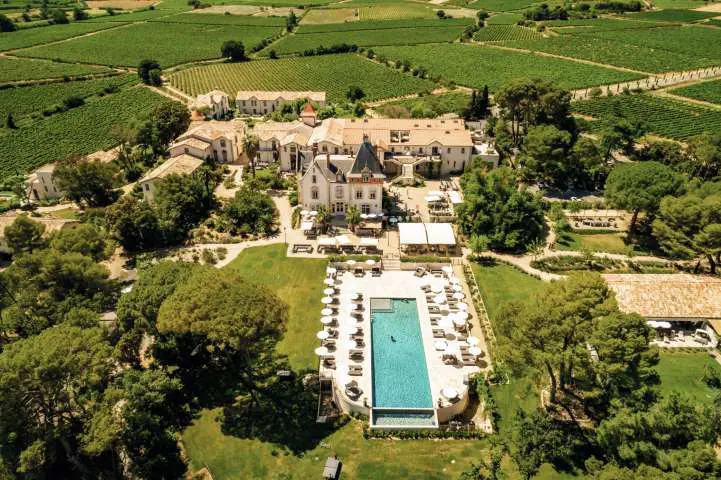 A magnificent 19th-century chateau encircled by its own 200-acre wine estate, Chateau St Pierre de Serjac has all the ingredients for an indulgent break. Laze by the 30-metre long, shimmering infinity pool, try a game of tennis on the state-of-the-art masterclay court or head to the light-filled Cinq Mondes Spa, with its heated hydrotherapy pool, steamy hammam, vineyard-view hot tub and cocoon-like loungers. Wine-lovers mustn't miss a stroll along one of the estate's scenic wine trails. As dusk falls, enjoy a drink at the elegant bar, in the chateau's original drawing room. Then dine beneath twinkling chandeliers in the pan-Mediterranean restaurant, with a superb, locally-sourced seasonal menu. On your doorstep there are gems such as the charming market town of Pézenas, with its bustling weekend market and antique shops. At nearby Thau lagoon, you can try world-class oysters, or learn to make cocktails at the Noilly Prat Vermouth cellar in Marseillan.
Château Les Carrasses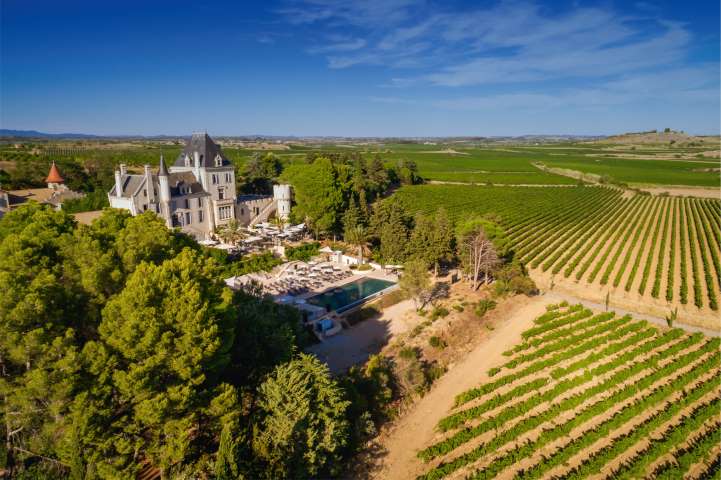 Straight out of a fairytale with its turrets and honey-hued terraces, Chateau les Carrasses is immensely popular with families, but outside of school holidays, the stunning vineyard estate is a playground for grown-ups. There's an intimate, country-club vibe, with luxurious yet laidback interiors blending traditional French country style with contemporary flair. You'll find a host of luxury facilities on site, including a sleek infinity pool, floodlit clay tennis court, petanque courts and a sophisticated wine bar. Guests can mingle over tapas and seasonal Mediterranean cuisine from the restaurant, or you could drive your own boat on the picturesque Canal du Midi before a wine tasting in the Bar. Feeling adventurous? Take the plunge with some wild swimming in the Gorge d'Heric, or a kayaking trip down the River Orb.
Château Capitoul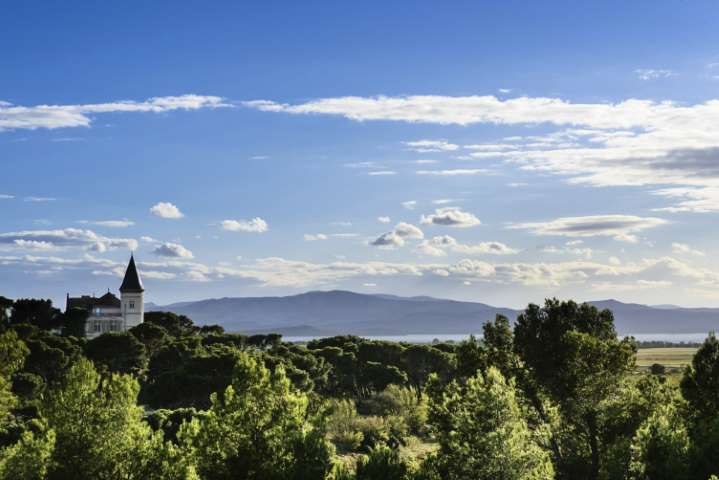 The epitome of French elegance, Chateau Capitoul lies within a rolling 120-hectare wine estate with a striking neo-gothic tower at its heart. You'll find refined bedrooms, a gastronomic restaurant and pampering spa, while along the hillside lie 44 stylish self-catering villas set among spectacular gardens. The real scene-stealer, however, is the immaculately-restored winery. Vineyards have been cultivated here since Roman times, while today the chateau's renowned wine partner, Vignobles Bonfils, runs the hotel's cellar. An oenophile's dream, the Caveau has a dazzling collection, while guests can choose from a range of wine activities. During the summer guided walks teach you how to recognise different grape varieties, then test your knowledge with tastings back at the cellar. Prefer to cycle your way around the estate? Electric mountain bike tours will take you through spectacular terrain to the nearby island of Saint Martin, with its luminous salt pans or a more challenging ride exploring the hidden rocky paths of the Massif de la Clape. Nearby, the charming fishing village of Gruissan is known for its fresh seafood & plump oysters – spend a day here at one of the beach clubs, or get your culture fix at Narbo Via, Narbonne's striking new museum of Roman antiquities. The city is also home to France's most beautiful covered market, a great spot for lunch.
H