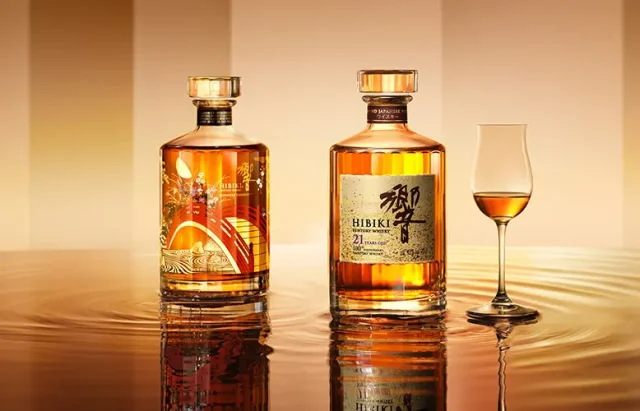 As 2023 marks a momentous year for the House of Suntory, the founding House of Japanese whisky is thrilled to reveal the long-awaited centennial release of Hibiki 21-Year-Old and a limited-edition bottle design of Hibiki Japanese Harmony that honors the four seasons and is a nod to the past, present, and future. The two limited releases mark the latest centennial whisky offerings from the House of Suntory's anniversary celebration, honoring a century since founder Shinjiro Torii established Japan's very first malt whisky distillery in 1923.
Originally making its debut in 1989, Hibiki is considered among the most prestigious whiskies in the world and has become one of the most sought-after Japanese blended whiskies. Hibiki is a harmonious blend of various malt and grain whiskies from Suntory's Yamazaki, Hakushu and Chita distilleries. The limited-edition Hibiki 21-Year-Old is a delicate marriage of malt and grain whiskies that are meticulously blended to create an orchestra of flavors and aromas. For this special centennial edition, rare Mizunara oak is placed at the forefront, profoundly influencing the blend while still maintaining Hibiki's character and essence.
"For the limited-edition Hibiki 21-Year-Old, our team took on the challenge of crafting a new blend to celebrate our centennial," says Chief Blender of Suntory Shinji Fukuyo. "With meticulous precision, we managed to harness the challenging-yet-rewarding characteristics of Japanese Mizunara oak to accentuate the unique flavor profile for which our Hibiki whiskies are known. This special whisky showcases our continued dedication to craftsmanship at the House of Suntory."
The centennial anniversary label design on the Hibiki 21-Year-Old bottle artfully displays a gradual transition of colors that evoke the sunrise in Japan, a symbol of life, vitality and the ever-flowing passage of time. In Japanese culture, the sun holds deep meaning, as it nurtures the surrounding nature and provides essential energy. It stands as a reminder to appreciate life and embrace the changes that come with each passing moment.
Tender gold in color, this extraordinary whisky embodies the spirit of "Wa," or oneness, with enticing aromas. It offers refined and elegant notes of kumquat and jasmine with Japanese incense. The palate is subtly sweet and floral combined with spiced sandalwood and agarwood. The result is a long and deep finish with undertones of spiced Mizunara wood. Hibiki 21-Year-Old is bottled at 43 percent ABV. It is available globally in select markets.
The House of Suntory's centennial Hibiki Japanese Harmony bottle design brings the art of "Monozukuri" craftsmanship to life—it's this same relentless pursuit for quality, ingenuity, and expressiveness that has inspired the design of each of the house's centennial limited editions. The Hibiki Japanese Harmony centennial edition packaging features motifs of snow, moon and flowers representing Japan's changing seasons. The 'Kakehashi' (bridge) depicted on the bottle links Japan and the world to the past, present and future. The water flowing underneath is pure and clear, symbolizing the cleansing of hardships and calamity. The 'Kakehashi' symbolizes the emotional connection of the Japanese people to their country's unique seasonality and its significance in everyday life, fostering an appreciation for time that deeply resonates and inspires Hibiki.
Amber in color, this luminous and delicate whisky presents notes of rose, lychee, a hint of rosemary, mature woodiness and sandalwood on the nose. On the palate, it offers aromas of honey-like sweetness, candied orange peel and white chocolate. The finish is both subtle and tender with a hint of Mizunara. Hibiki Japanese Harmony is bottled at 43 percent ABV. It is available globally in select markets.
Earlier this year, the House unveiled its centennial edition Yamazaki 18-Year-Old Mizunara and Hakushu 18-Year-Old Peated Malt whiskies. Limited 100th anniversary labels of the flagship Yamazaki 12-Year-Old and Hakushu 12-Year-Old were also released for the centennial. All four are available in select markets around the world.
The House of Suntory invites fans to join its new global membership program, offering exclusive benefits such as early access to new releases, priority invitations to consumer experiences*, distillery news, cultural insights and more. To sign up and learn more about the House of Suntory, please visit us online here.
For more information on the new limited-edition whiskies, please visit us online here for Hibiki 21-Year-Old and here for Hibiki Japanese Harmony.