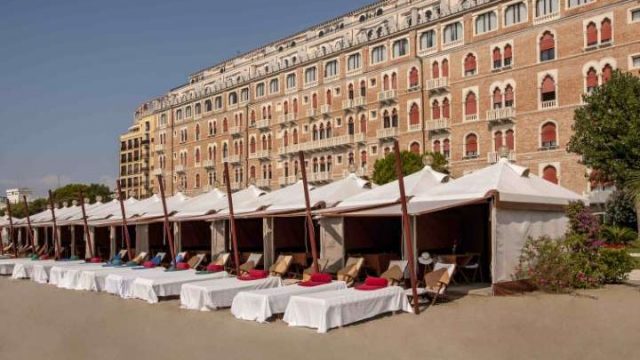 As Europe continues to sizzle, a cooling swim is imperative to any summer city break. A beautiful pool is a luxury but the added glamorous private beach overlooking the Adriatic at the Hotel Excelsior Venice Lido Resort takes an experience in the bucket list destination of Venice to a whole different level.
The hotel has launched its beach package for the summer season (from now until 15 September), which culminates in the much-anticipated Venice International Film Festival.  
The package includes a welcome cocktail on arrival at the Elimar Beach Bar, a two-course lunch from the Elimar Beach Bar and Restaurant, and free access to the beach with a full day cabana rental (per night booked). These elegant Arabesque cabanas with loungers bedecked with mattresses and pillows are reminiscent of 1920s film star glamour. The addition of a late check-out option makes it even easier to soak up the sun and relax on the beach for just a bit longer.
The private golden sand beach at the Hotel Excelsior is part of a 12 km sandbar between the Venice Lagoon and Adriatic Sea known as the Venice Lido, which is home to the internationally renowned Venice Film Festival. Every September directors, movie stars and glitterati dock their yachts at the hotel's famous pier and hang out at the bars and restaurants while paparazzi shoot memorable snaps with the historic façade as the background.
Families will also love the Scimpa Kids programme, designed for children aged 4 to 12. From 10.00 am. to 6.30 pm young guests can join the Scimpa Kids Club, a lively space providing fun sports and 'edutainment' activities under the supervision of a trained team and the club's cheeky monkey mascot, Scimpa.
The Hotel Excelsior Venice Lido Resort is a masterpiece in 20th century Belle Époque architecture, built to resemble a luxury Venetian palace with added elaborate Moorish designs.
Guests can also enjoy the hotel's special summer pop-up restaurant on the Tropicana Terrace serving contemporary Venetian cuisine at 'The Bistrot del Mare by two-star Michelin chef Lionello Cera'.
For more information visit hotelexcelsiorvenezia.com