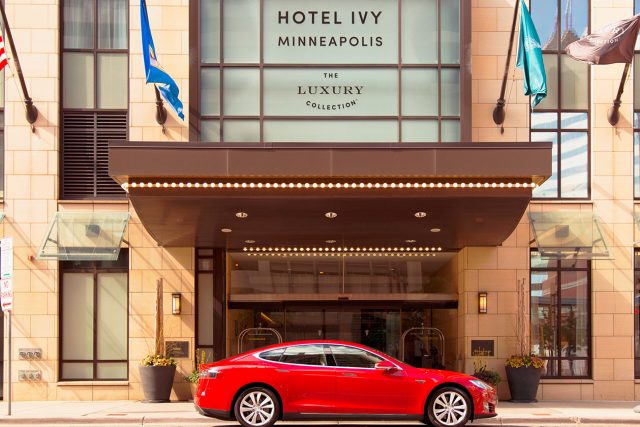 In an exclusive new partnership, the first of its kind in North America, Minneapolis' premiere luxury hotel, Hotel Ivy, is partnering with TREVLS, a Tesla car rental company headquartered in downtown Minneapolis. Beginning this month, Hotel Ivy, 201 S. Eleventh Street in Minneapolis, will offer all guests the opportunity to reserve a Model S or X during their stay. TREVLS' full-service experience will pick-up and deliver the choice of Tesla vehicle directly to Hotel Ivy for the ultimate travel convenience. This partnership will also amplify the already popular "Dom Pérignon" experience that the hotel's Penthouse Suite is known for.
"Our partnership with TREVLS allows us to continue to offer our guests a premiere travel experience, unique to the industry and unparalleled in the Minneapolis area," said Betsy Bartholomew, Director of Sales and Marketing, Hotel Ivy. "Our guests can reserve a Tesla while booking on the hotel website and other Tesla and room packages will be available for select dates as well."
Unveiled one year ago this month, the ultra-luxe, two-story Penthouse Suite offers Minneapolis' most spectacular views as well as the suite's 1,900-square feet of indoor living space. Giving a nod to The Luxury Collection Hotels' partnership with Moët Hennessy, the world's unrivaled standard-setter for quality and luxury in wines, spirits, and champagnes, Hotel Ivy's Penthouse embodies that same "Dom Pérignon"-level experience of perfection, inviting guests to revel in the finest accommodations the region has to offer.
The newest of the premiere Penthouse Suite Packages, the TREVLS Tesla Penthouse Package, starts at $5,000 per night. The package invites guests to immerse themselves in a one-of-a-kind city experience beginning with an overnight stay in the luxurious Penthouse Suite, the rental of a TREVLS Tesla car of choice, a selection of Minneapolis' top craft beers delivered upon arrival, and of course, a bottle of Dom Pérignon.
In addition to the Penthouse Package, Hotel Ivy offers a variety of packages to meet every guest's particular needs and are available to book online or by phone. TREVLS' daily rates range from $195 to $350 and weekly rentals start at $995.95. For more information or to book your stay, visit www.thehotelivy.com or call (612) 746-4600.