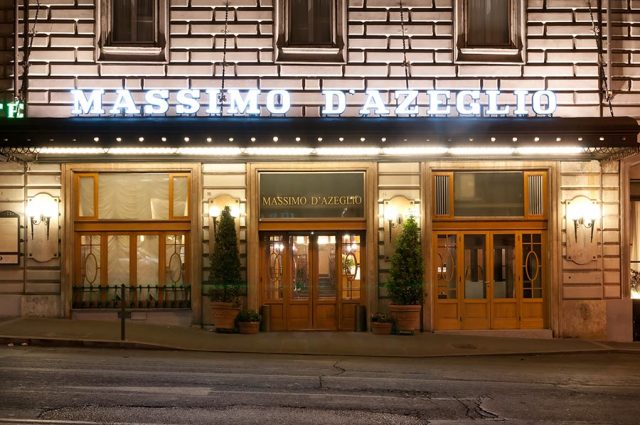 Within walking distance from historic landmarks including the Colosseum, Opera House, Forum, Trevi Fountain and Spanish Steps, Bettoja Hotels Collection offers three hotels located in the heart of Rome.
In 1875 Maurizio Bettoja, passionate about wines, good food and hotels, opened a restaurant just above his wine cellar which today offers a unique setting for special candlelit dinners. Located in Hotel Massimo D'Azeglio, Ristorante Massimo D'Azeglio offers traditional cuisine from Piedmont along with international dishes.
The restaurant is recognized for its ancient wine cellar with more than 1800 bottles including precious labels. The restaurant's vegetarian menu features signature favorites including courgetti flowers stuffed with buffalo mozzarella and organic ricotta with cream of Jerusalem artichoke, chick pea soup with olive oil and rosemary, risotto with tomato, cumin seeds and lemon sauce, stir fried mushrooms and potatoes with garlic, parsley, sage and marjoram, cereal salad, red rice with vegetables, basmati rice with chick peas and rocket salad, organic pastas and more.
Vegetarian dishes signed by Umberto Vezzoli include Tuscan spelled soup with bread crust and pecorino mousse, sauteed wholemeal fusillone, courgette cream and ginger, toasted vegetable quinoa with potato mousse and grilled radicchio and special desserts including apple pie with mascarpone cream, chocolate mousse with wasabi and raspberry cream and the Chef's tiramisù.