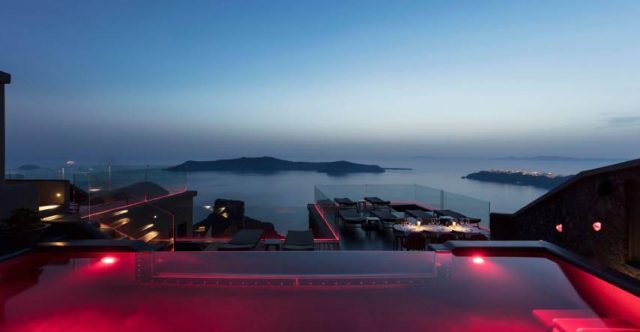 Choosing Santorini for your next holiday destination is the first step of a journey you know will be amazing beforehand. What is not to love about this scenic Greek island with the bizarre, almost eerie morphology and the charming whitewashed houses and their blue domes? The mind-blowing sunset views? The volcanic landscape? The black, white, and red-pebbled beaches? The traditional settlements set on top of the imposing Caldera? The crystalline waters? And, that's just the beginning.
So, how do you ensure your visit is a guaranteed success given the so many different options and activities available? We've asked the locals for tips and advice. Here's what they have suggested.
1. Come prepared and sure of the type of holidays you want
Just because Oia is one of the most beautiful towns in Santorini does not necessarily mean that it is the right place for you if you are here to party and enjoy a more vibrant nightlife. In this case, Fira is a better option as it gathers the majority of bars and clubs in Santorini.
Wish for a relaxed beach holiday and beachside lounging? Then the eastern side of the island will suit your needs better than any other part of Santorini, with its black beaches. Don't be turned off by the strange colour of the sand. It is a remnant of past volcanic activity and it is absolutely gorgeous!
Does your holiday calendar include romantic getaways? Then Imerovigli amps up the romance factor with 5-star hotels and villas that feature captivating views of the Aegean Sea and the Caldera while offering supreme services and stylish upscale accommodation. Prefer something even quieter? Head to Oia. Get the point? 
2. Plan (and book) ahead of time
Indeed, booking ahead for whatever it is that you want to do in Santorini will pay off and help avoid disappointment. The island gets daily injections of thousands of visitors, which means that the demand is skyrocketed, especially when it comes to island tours and accommodation.
The same applies to restaurants overlooking the Mediterranean, be it from their terraces or front yards, during peak season. It would be such a shame to miss a signature dish prepared by one of the island's best chefs and eateries just because you didn't make a reservation early on.
So, yes, planning your every step in Santorini may sound like a nuisance after the crazy organising frenzy of the winter lifestyle, but it will help you have the experience you want. Or you can skip this one and read tip #4 instead!
3. Try something new
You are visiting an island like no other. So, why not go with your instinct and try new things? We are not talking about pushing the envelope here, rather than having fun. For example, participating in culinary activities or exploring the lively underwater world can be truly soul-pleasing.
Santorini gives you the chance to discover many of its different faces. As long as something does not make you feel you are taking unnecessary risks or causes anxiety (i.e., maybe horseback riding scares you with no end), you can definitely broaden your horizons, try new foods, or go after different cultural experiences and have a blast.
And, don't be surprised if you feel much more relaxed as days go by in Santorini than you have ever felt before. There is a distinct sense of friendliness floating in the air that can make you break down some of your walls and do things you would not normally do back home, like having a cheerful conversation with a complete stranger!
4. Be flexible and live this holiday in your own way
Things happen. So, the weather gets bad (i.e., too windy) and you are not able to enjoy the beach. Or the restaurant you want to try does not have any more room when you walk in. Don't forget that facilities at cosmopolitan islands that receive thousands of visitors during peak season sometimes get overbooked. And, we certainly can't fight the elements. What we can do, though, is be flexible. Who knows? The opportunities that open up could take you to even more exciting adventures!
At the end of the day, it is all about experiencing Santorini in your very own way. If something does not work out, you can always make new plans and spend your time on the island otherwise. Whether, for example, you manage to enjoy a few tours or squeeze in every single one on offer is up to you. What matters is that you leave with your bags filled with memories that will last for a lifetime! In Santorini, you can.
Enjoy!