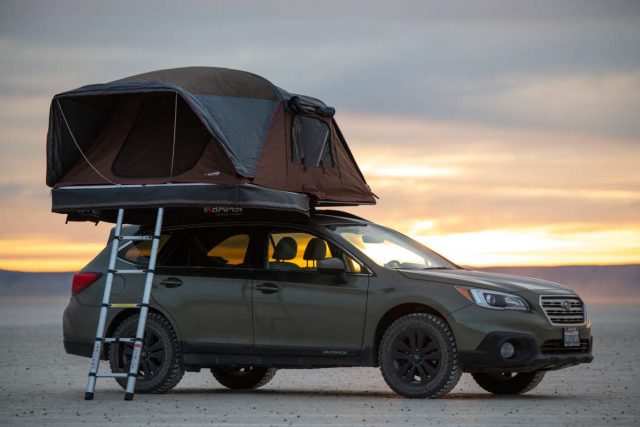 iKamper's new X-Cover is the first-ever soft-sided rooftop tent that accepts roof rack accessories. This ensures no lost space for gear on the roof, so you can have your tent, along with your kayak, bike, SUP or skis.

iKamper made a name for itself by creating the most successful rooftop tent project in Kickstarter history in 2017, raising over $2 million. The Skycamp rooftop tent was a singularly unique design used by outdoor enthusiasts around the world. Fast-forward to 2019 and iKamper unveils the X-Cover, another significant step forward in rooftop tent design, solving several of the biggest issues with traditional roof top tents.
Unique Coverless Design
No fighting with the traditional PVC bag-like cover means an easier deployment once you get to a camp site and a frustration free pack away process when you are ready to hit the road again.
Sleeps 3-4 people
The comfortable, king-size mattress, sleeps a family of 2 adults & 2 children, or up to 3 adults on the 2.5" high density memory foam mattress.
Optional Crossbars
Mount your favorite equipment, and save space in your vehicle. Compatible with all after-market cross rack accessories, the tent has two pre-installed cross bars.
Weatherproof
Made of breathable, water-resistant 300 GSM poly-cotton canvas. It also comes with waterproof zippers and a polyester rain fly for extra protection.
The X-Cover's design eliminates the bulky PVC cover of traditional roof top tents and saves time, allowing for full deployment in less than 3 minutes vs countless trips around your vehicle fiddling with straps and covers.

With the ability to sleep above the uneven, rocky ground on a king-sized memory foam mattress, leave your bedding in your tent, quick deployment and no loss of functional roof space, the X-Cover is a substantial step forward in rooftop tents.
Learn more here: www.ikamper.com