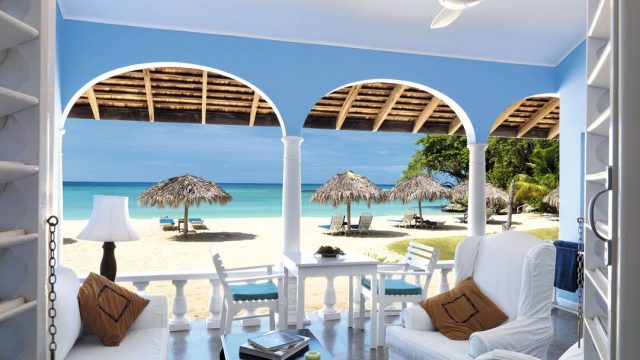 Since the 1950's, two generations of the Morrow family have proudly welcomed guests to the Jamaica Inn. This Jamaican jewel has been bestowed many awards over the years, consistently been ranked one of the best resorts in the Caribbean and for good reason.
Situated on what locals call the best beach in Jamaica, the Inn features 47 rooms and suites, each boasting a private verandah or balcony with overstuffed sofas, and comfortable reading chairs. All accommodations overlook the magnificent blue Caribbean waters. Each room is spacious, immaculate, and impeccably decorated to the highest standards. The Caribbean breeze continually wafts through the shutters and in case of heat, ceiling fans and air conditioning is available for guest comfort. For a more intimate or solitary vacation, a select few cottages are also available. These exclusive quaint cottages are steps from the main Inn and feature a rich blend of Jamaican and Indonesian décor.
On site is the impressive KiYara Ocean Spa, which means "sacred place of the earth spirits" and reflects the serenity of nature, and the vivacity of the Caribbean way of life. A myriad of exceptional spa services are available from a hot stone manicure to exotic Oriental reflexology or a sensual 4-hand full body massage.
Most first time guests come for the reputation attached to the Jamaica Inn. Repeat clients return over and over again because of the exquisite setting, the exceptional accommodation and the world class service that never misses a single detail, no matter how small.