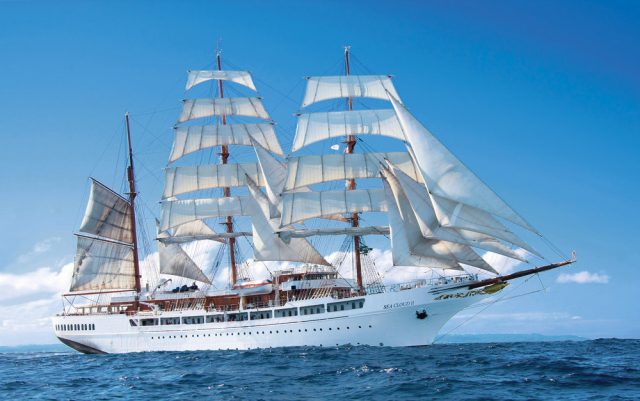 SEA CLOUD CRUISES, the Hamburg operator of small, fine sailing cruises is happy to announce the promotion of Kathryn Whittaker to captain of the SEA CLOUD II by their crewing manager. Whittaker is the first female Canadian captain of a passenger cruise ship. In addition, she is the first female captain in the fleet of SEA CLOUD CRUISES consisting of two sailing ships, the SEA CLOUD, welcoming 64 guests on board and the SEA CLOUD II, with 94 guests
Whittaker's path to captainship is unconventional. Unlike many captains, her family doesn't consist of sailors, and her voyage didn't start at an early age in maritime academy. While at university in Toronto she took time off from school and worked on touring boats in Toronto Harbor for 3 years, and then made her way to SEA CLOUD as a deck hand in 1996. This first position on a sailing ship sealed her fate, and began her journey into securing her captain's license.
Whittaker did most of her training privately and achieved her certifications by passing the required exams through various Canadian Maritime schools. Whittaker's hand-on experience was achieved on various sail training ships, including 5 years as Captain of Bytown Brigantine's "STV FAIR JEANNE" and  small passenger sailing vessels in the British Virgin Islands, where she held various positions including chef, first mate and training captain. She then held the position of Chief Officer for 2 years with Canadian Sailing Expeditions.
Prior to being promoted last month to captain, she held the position of chief officer for 6 years. As chief officer on the SEA CLOUD II Whittaker was responsible for the ship's maintenance and overall ship security. As captain, she will now head every department, and commands the mostly male nautical and technical officers. "Growing up as the only girl with 4 older brothers, prepared me well to work in this field. I had to prove myself on this ship and have over the years gained the respect of the crew," said Whittaker.  
"When the opportunity arose for our crewing manager to promote Whittaker, who conveys dedication and love for her job, to captain the decision was easy," said Daniel Schäfer, Managing Director of SEA CLOUD CRUISES. He added, "In a very male dominated industry, we are thrilled to have a very qualified woman for the highest position on a ship."
Whittaker grew up in St. Thomas, Ontario and when not at sea, she now calls Ottawa home.
About Sea Cloud Cruises:
Launched in 1931, SEA CLOUD is a legendary windjammer that brings back the glamour of a bygone age. The yacht's original owners were Marjorie Merriweather Post and her husband Edward Hutton. Sister ship SEA CLOUD II was built in 2001. SEA CLOUD CRUISES' ships have some of the most spectacular public rooms and cabins at sea. Days onboard are relaxing and the port of calls in the Caribbean or Mediterranean are unique, and usually not frequented by a dozen other ships. Food and service are also top-notch. Unlike the modern, electronically operated sailing ships in the industry, all sailing is done by hand on SEA CLOUD and SEA CLOUD II. The most notable feature of both ships is the sail area of approx. 3.000 m²/32.200 sq. ft.     
Since 1979, SEA CLOUD CRUISES has been one of the top names in the world of cruises. The almost 87-year-old four-master Barque SEA CLOUD and her younger sister SEA CLOUD II are regularly elected amongst the top five in the boutique ships category by the Berlitz Cruise Guide.
For more information on Sea Cloud Cruises exciting destinations and itineraries, visit www.seacloud.com