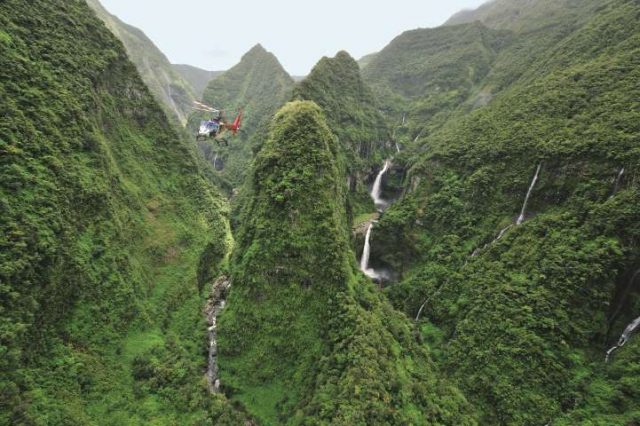 Off the Map Travel introduces an adventure to "another world," taking guests through prehistoric jungle scenery to spectacular volcanoes and a night sleeping under the stars in a clear bubble on La Reunion Island.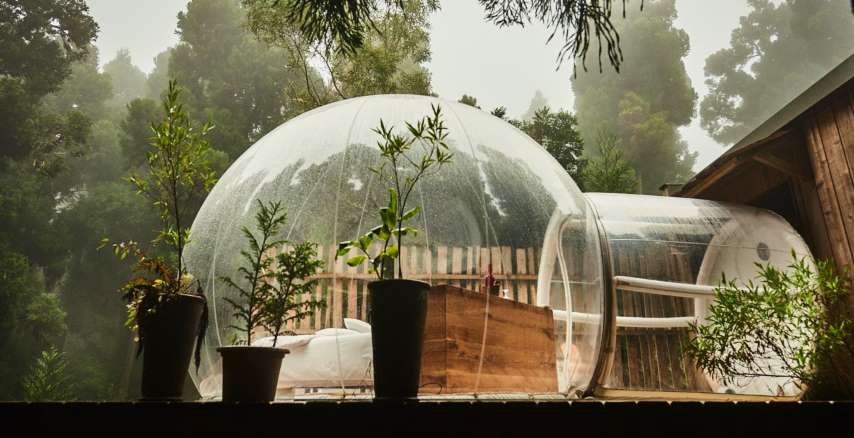 Deep in the Indian Ocean between Mauritius and Madagascar, La Reunion Island is the setting for the new "Like Nowhere Else on Earth" experience. On this French island at the crossroads of African, Indian, European and Chinese cultures where English, French and Creole are spoken — and a place likened to Hawaii with its landscape and volcano-filled topography — guests will find themselves in an area that could well have been the location for the movie Jurassic Park. Filled with overgrown trees, lush foliage and volcanoes, La Reunion offers a natural paradise where it's easy to imagine dinosaurs roaming during the Mesozoic Era. For additional information, please visit https://www.offthemap.travel/destinations/indian-ocean/la-reunion/.
Guests begin the island adventure with a helicopter flight over the cavernous ravines, moon-like volcanoes and lush forest before landing at Hiker's Eden, a lodge retreat deep in the mountains. There they will enjoy a Creole lunch cooked over an open fire followed by an on-land exploration upward through the area's lava tubes and caves created by the island's volcanic lava flow to a ziplining experience through the jungle.
The evening offers even more adventure. Just outside of the small village of Les Makes, 1500 meters above sea level and in the middle of the tropical forest, guests will settle into one of four individual bubble accommodations where the night sky and surrounding wilderness form a natural outdoor blanket. Each transparent bubble provides a sleeping and relaxation space and is connected to a shared bathroom and lounge. "Picture Jurassic Park all around you," commented Jonny Cooper, founder of Off the Map Travel.
"La Reunion is a dramatic land of fiery volcanoes, steep-sided jungle landscapes and starlit skies – off-the-beaten track and offering a taste of Creole culture with a splash of luxury," Cooper continued. "It's an area unmarred by tourism and filled with adventures."