There's a new way to travel around Los Angeles.
In honour of National Puppy Day, we have curated a list of places to visit in L.A. purely guided by your favourite breeds of puppies. Yes – Los Angeles Tourism has matched which neighbourhoods you would most enjoy based on what types of dogs you are drawn to.
This formula won't disappoint, though fluff balls are sadly not included.
And if you do want a dose of dogs, don't miss the Dogs! A Science Tail exhibit which opened on March 16 at the California Science Center – an engaging hands-on exhibit exploring the science behind the bond between humans and dogs.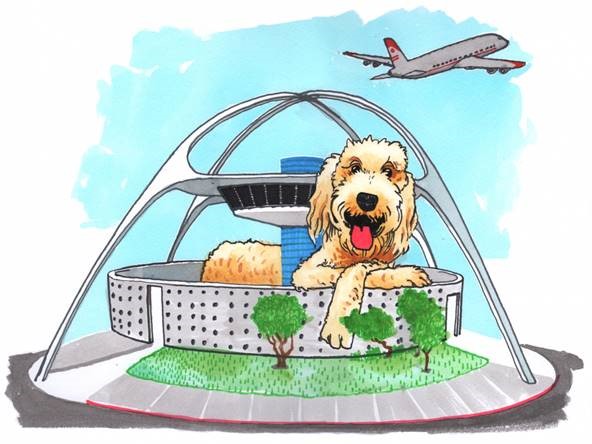 Brentwood: Golden Retriever
THE NEIGHBORHOOD
Cozy, quiet, and suburban. Brentwood is known for being well-maintained and family-oriented.
THE BREED
Iconic all-around family dog. Outgoing, energetic, and wholesome. Catch him jogging alongside a stroller down the neighborhood streets of Brentwood.
Chinatown: Shar-Pei
THE NEIGHBORHOOD
One of LA's most popular cultural destinations, Chinatown is experiencing a renaissance with a new generation of restaurants, bars and galleries.
THE BREED
Known for its deep wrinkles and blue-black tongue, Shar-Peis are independent, traditional and clean. One of China's oldest dog breeds, this ancient pedigree is steadfastly loyal to his family. Literally translated as "sand-skin" Shar Pei wrinkles make them a one-of-a-kind companion and guardian dog.
Highland Park: Boston Terrier
THE NEIGHBORHOOD
Another neighborhood rich with history, Highland Park has undergone recent transformations and is no stranger to iconic food trucks, bakeries, and breweries.
THE BREED
Boston Terriers are packed with energy. They look similar to their trendier cousins, the French Bulldog, and have both an attitude and a humor about them that makes them unique, just like HP.
Hollywood: Yorkshire Terrier
THE NEIGHBORHOOD
Entertainment central. While you'd imagine finding paparazzi following celebrities around, Hollywood is full of tourists, landmarks, and attractions galore.
THE BREED
It's all about the glamour. Often clad with hair accessories, the Yorkie is a breed that everyone knows, just like Hollywood as a neighborhood.
LAX: Labradoodle
THE NEIGHBORHOOD
One of the world's busiest airports, Los Angeles International Airport (LAX)is home to the Googie landmark Theme Building and offers plenty of layover options, from dozens of L.A.-based dining options to coastal biking along the Strand.
THE BREED
Known for being friendly, affectionate, even-tempered and smart, it's no wonder that Labradoodles are the most popular breed in the LAX Pets Unstressing Passengers (PUP) program.
Malibu: Standard Poodle
THE NEIGHBORHOOD
Laidback luxury beach town. Ocean backdrops and quintessential surfer vibes, seaside city with expensive boutique malls.
THE BREED
One of the most posh-looking dogs there is. The Poodle is confident, smart, and got just the right amount of attitude.