Known for its eclectic vibe, Venice Beach stretches along the ocean and boasts a bohemian atmosphere. The little beach town carries a spirit filled with artistry, evident the moment you step into the neighbourhood. The vibrant energy floats through the free-spirited boardwalk, with street performers, artists, and vendors providing a colourful culture teeming with entertainment and excitement.
Cafes, restaurants, and bars perch along the boardwalk and make enjoying the gastronomical fare overlooking the sprawling sandy beach a choice activity in Venice. There's a certain liveliness that emanates through the area as cyclists, rollerbladers, skateboarders, runners, and swimmers populate the neighborhood at all hours. Here, it doesn't matter who you are or where you come from, it just matters that you're ready to enjoy yourself. Whether starting your day off with a sunrise run, cooling off with a swim during the sunshiny day, or sipping on a cocktail overlooking the sunset, Venice Beach provides the perfect paradise and a home away from home.
WHERE TO WINE AND DINE: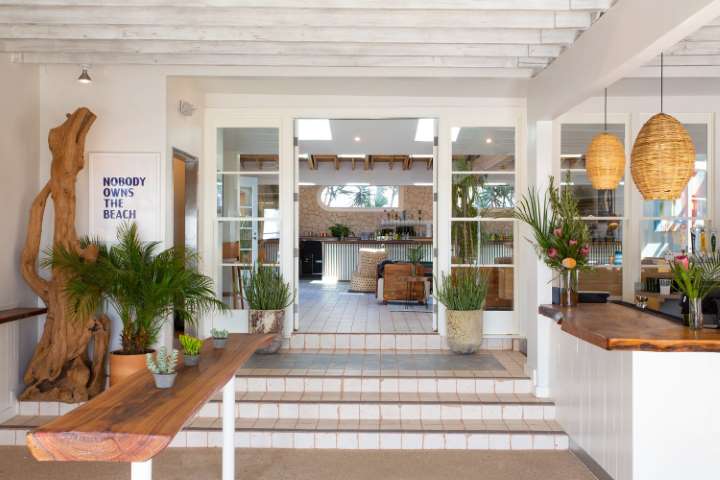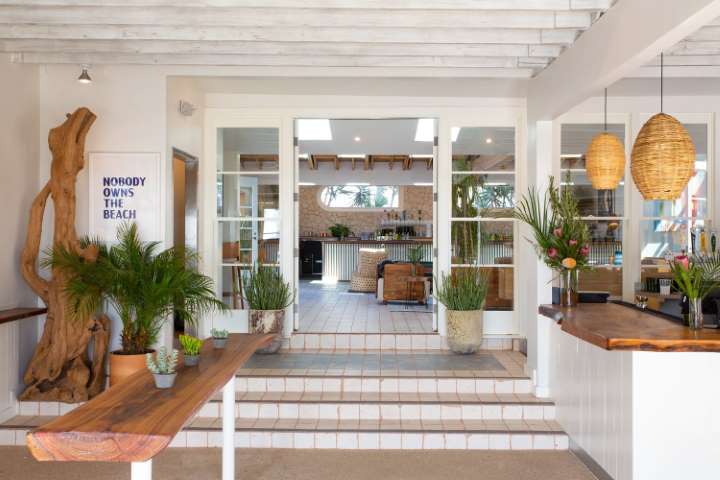 Nestled along the Boardwalk is The Waterfront—a beautiful bohemian beach eatery that serves as the go-to hangout for locals and tourists alike. Wanting to bring a little bit of Australia to Los Angeles, Dave—one of the owners—drew inspiration from his favourite hangout in Sydney, Wharf Bar. Complete with a lounge area, takeout window, all-day café, beer garden, and dining area, this soulful beach destination provides an authentically Californian experience with food options for all, whether vegetarian, vegan or carnivore. Providing breakfast, lunch, dinner, and happy hour offerings, the food is always flavorful and made with fresh, high-quality ingredients. Whether working remotely in their comfortable lounge, hanging out with friends over some beers, or getting some food on the run, this place offers it all.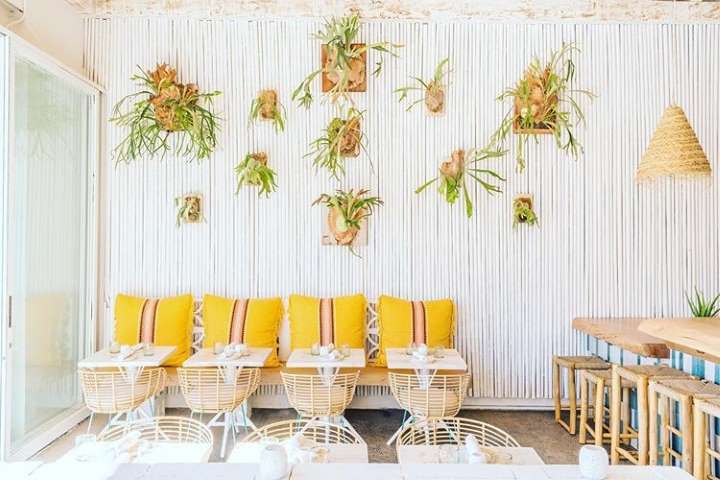 Californian inspiration fused with Mexican cuisine is a picture-perfect pairing, demonstrated by the delicious culinary destination, Chulita. More than just a restaurant, Chulita Botanas y Mezcales, translated to "Mexican drinking food," also serves as a mezcal and tequila bar. Located in the heart of Venice Beach on Rose Avenue, this colourful restaurant and bar ties together the big flavours of Mexico to the California coast by sourcing its fresh and organic ingredients locally in California.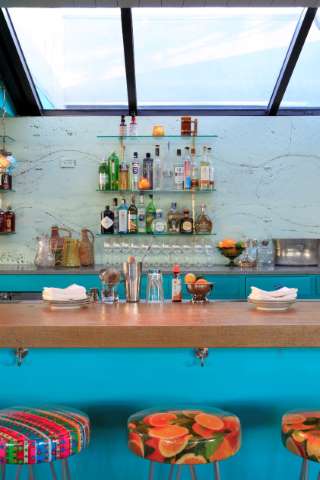 Located between Abbot Kinney Boulevard and Marina Del Rey, Sunny Spot is the spot to gather and relax over good food and great cocktails, particularly with its signature Bloody Marys. With bottomless drinks available all day, breakfast available Monday through Friday, and brunch available on the weekends, start your day off right by soaking up the sun in this spot. Of course, the restaurant also has all day food offerings too, so maybe those bottomless drinks will carry you from morning to evening all the way through.
WHERE TO STAY: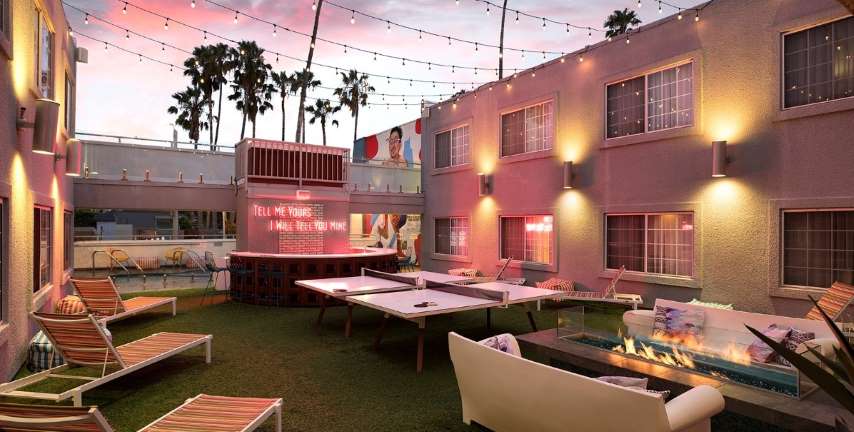 "Our house is your house" at The Kinney in Venice Beach. The concept: live like a local and experience the true So Cal life. This boutique hotel offers a place to connect, unwind, party, mingle, and play, making it perfect for solo or group travellers looking for a fun, vibrant atmosphere.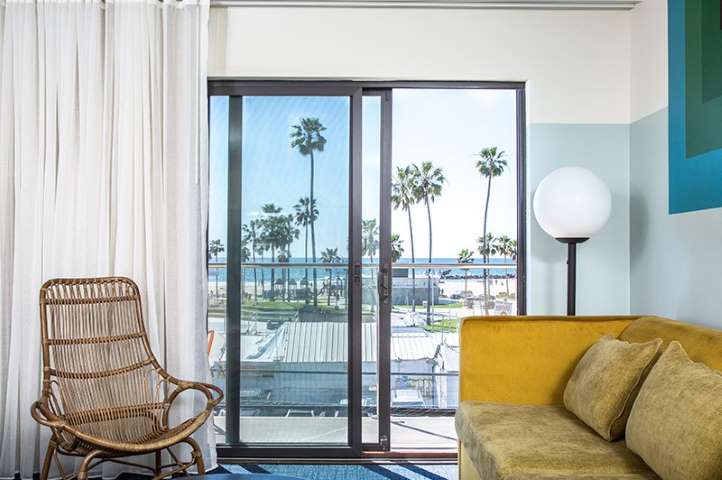 More than just a fantastic hotel, Hotel Erwin's rooftop patio and bar, High Lounge, is the only rooftop patio in Venice. The bar has a stunning view of the sunset year-round and is a great place for vacationers to relax and enjoy the evening over cocktails. Located in the heart of everything, Erwin is close to the Boardwalk, the bike path, Abbot Kinney Boulevard, Muscle Beach, and the coveted skate park. Moreover, they offer a day pass to Gold's Gym and offer free rides to Venice hotspots like Abbot Kinney Boulevard and Rose Avenue in The Free Ride's electric shuttles.
WHAT TO DO: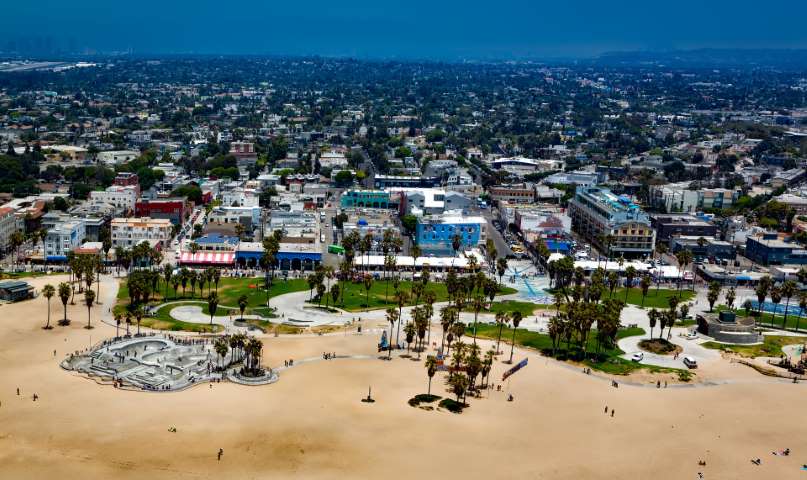 Explore Venice Breakwater
Take in the sunset from Marina del Rey's rock wall on the beach, also known as Venice Breakwater. While you're there you'll see the incredible street artwork on the Venice Public Art Walls.
Bike down the Boardwalk
Cruising down the coast on a bicycle is always a good idea on a nice, sunny day. Perry's Café and Beach Rentals has a variety of different bikes to rent so you're comfortable on your ride. More than just a mode of transportation, biking along the beach will allow you to take in the beautiful landscape in a way many locals do.
Workout at Gold's Gym
If you're a fitness junky, you'll have to check out Gold's Gym, the fitness center deemed the mecca of bodybuilding. Get a day pass and work out at this celebrity hotspot, known to be where Arnold Schwarzenegger works out. With some of the best state-of-the-art equipment and amenities, classes led by world class instructors, and an atmosphere of fitness focused individuals, working out at Gold's is a must.