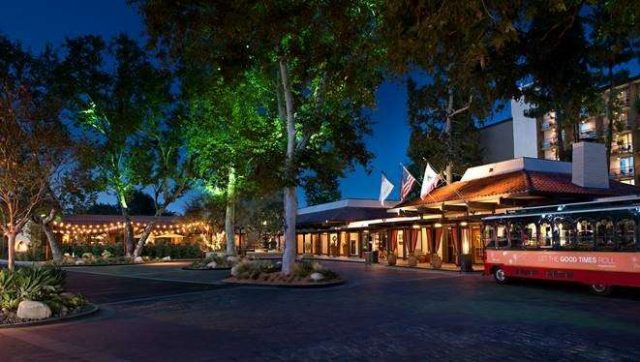 As Awards Season in Los Angeles winds up, the city is filled with exciting and glamorous energy – though, you needn't be a celebrity to partake. This season, businesses, attractions and hotels are offering visitors and locals alike the chance to experience their own "Once Upon a Time in Hollywood."
To celebrate the city's signature season in style, Los Angeles Tourism partnered with select businesses as part of the Discover L.A. Exclusives program to offer visitors celeb-inspired experiences ranging from a private Hollywood Hills helicopter tour and a supercar experience to a full-day tour of the City of Angels. For a full list of offers, visit www.discoverlosangeles.com/exclusives.
For visitors seeking a champagne-filled weekend of luxury and VIP accommodations with amenities to boot, look no further than the curated experiences from these L.A. hotels:
The Garland's Roll Out the Orange Carpet Package
Perfect for those who want to host their own awards viewing party with friends or simply feel like a celebrity themselves, the Roll Out the Orange Carpet package from The Garland includes a two-night stay in the James Suite, a 1,000-square-foot Southern California bohemian chic penthouse overlooking the Hollywood Hills. Among other celebrity-style treatments to help guests get red carpet ready, those who book this package will receive the following:
Two-night stay in The James Suite
Bottle of Dom Perignon upon arrival
Martini Bar with Beverly Garland's martini menu in the James Suite
Private movie screening in Beverly Garland Theatre for up to 50 guests with DIY popcorn and a bartender
Bacanora tasting at the pool with a lobby bar credit
Dinner for two at The Front Yard
Luxury black car transportation services to and from the airport or your home if a L.A. local (30 miles radius from the hotel)
One-hour personal training session
In-room couples' massage
Late checkout
The package, starting at $10k/night, and is available to book starting from the Screen Actors Guild (SAG) Awards on January 19, 2020 to the Academy Awards on February 9, 2020. To view package details visit thegarland.com.
W Los Angeles – West Beverly Hills | Los Angeles, CA's Exclusive Award Season Package
Get the ultimate celebrity-style red carpet treatment this Award Season by checking in at W Los Angeles – West Beverly Hills and booking the Exclusive Award Season Package. Guests who book this package, can host their very own viewing party with 20 of their friends in the exclusive 1,350 square foot EWOW Suite, which has its own private gold-cushioned screening room. Have a true, VIP awards show experience with our watch party package, which includes:
Accommodations in EWOW Suite (sleeps up to four guests)
Veuve Clicquot champagne-stocked refrigerator
In-room blowouts by beGlammed for up to 20 people
Cocktail party at STK for up to 20 people
Private in-room munchie delivery from STK (burgers, fries, etc.)
Specialized Instagram photographer for four hours
The Exclusive Award Season Package starts at $13,500/night. Package is based on availability and can be booked by calling (310) 208-8765. Package is available to book from January 19, 2020 to February 9, 2020.