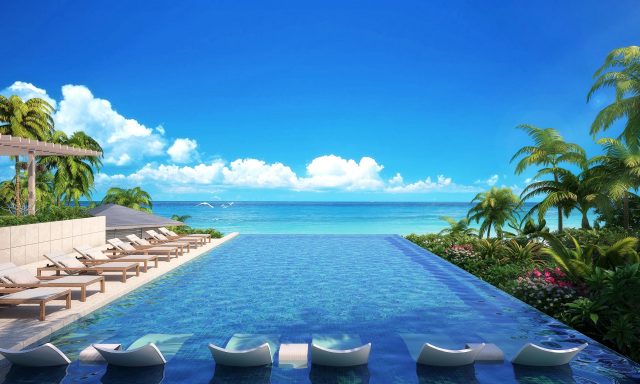 The Luxury Collection today announced the signing of IRAPH SUI, a Luxury Collection Hotel in Okinawa, Japan. Owned by The Mori Trust Group and slated to open in late 2018, the new island resort will be will be located in the city of Miyakojima, in Okinawa Prefecture and will be the third Luxury Collection hotel in Japan.
"We are thrilled to welcome this island resort to our portfolio in Japan," said Mitzi Gaskins, Global Brand Leader, The Luxury Collection. "The luxury vacation market in Japan is a well-established one, and sophisticated travelers are always looking for exciting new destinations and authentic experiences wherever they go. This latest addition to The Luxury Collection in Japan will enhance the brand's position in the global hospitality market and provide an exceptional indigenous experience to global luxury travelers."
The new Luxury Collection resort will be located on an elevated headland on the southwestern coastline of Irabu, a small island in the Miyako Island group, where its 57 guest rooms will enjoy stunning sea views. In addition to nine suites with private plunge pools, the resort will also feature 10 luxurious Junior suites and one Executive suite. Amenities will include a 72-foot outdoor swimming pool, a state-of-the-art fitness center and spa. IRAPH SUI will also feature an all-day restaurant, a relaxing pool bar and beach club.
"Together with the Mori Trust Group, we look forward to bringing another prestigious Luxury Collection hotel to Japan," said Raj Menon, Chief Operating Officer, Marriott International Asia Pacific, excluding Greater China. "With over 100 hotels in 32 countries, each Marriott International Luxury Collection hotel celebrates the distinctive character of its locale with beautiful settings, exquisite décor and the impeccable service of The Luxury Collection Concierge, giving our guests a truly unforgettable travel experience."
With their pristine white sand beaches and crystal-clear waters, the Miyako Islands are famous scuba diving destinations, boasting spectacular underwater rock formations resulting from volcanic activity, colossal Ryūkyū limestone arches, underwater caves and grottoes, as well as abundant coral and sea life. The Miyako Islands are also becoming a popular port of call for international cruise companies, receiving a total of 703,000 visitors in 2016 compared to 514,000 in the previous year. The islands are located approximately 250 miles east of Taipei, and Miyako airport has direct flight connections to Tokyo, Osaka and Nagoya.
The Luxury Collection takes guests on journeys to the world's most inspiring places, enriching and transforming modern global travel with authentic and timeless experiences that evoke lasting, cherished memories. There are currently 28 Luxury Collection hotels in Asia-Pacific welcoming guests to some of the most enchanting destinations in the region, where each iconic hotel serves as a portal to the indigenous charms and treasures of its particular location. The signing of IRAPH SUI in Okinawawill add another jewel to the crown of the Marriott International luxury portfolio in Japan, driving the strategic growth of the Luxury Collection brand in the Asia-Pacific region, as well as globally.
"We are glad to combine the resources of the Mori Trust Group with the prestige of the Marriott International Luxury Collection brand to bring this exciting new resort to Okinawa," said Miwako Date, President, Mori Trust Group. "This warm, unspoilt and idyllic region of Japan is well-known for its stunning seascapes and natural beauty, and our new hotel will showcase its charms and treasures to the most discerning of luxury travelers."
For more information, please visit www.luxurycollection.com