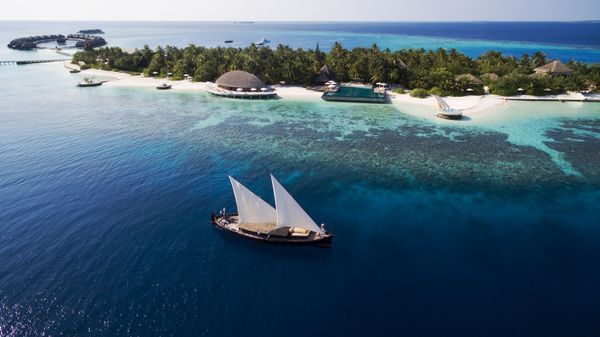 This Valentine's Day couples can share exclusive new sensuous experiences at sophisticated Maldives dreamscape, Huvafen Fushi. Where boundless beauty seduces and enchants. Where fantasy flourishes.
Fashionable global icon, Huvafen Fushi, carries a perennial stature, always fluid and forever pushing boundaries. The eclectic vision has evolved into a culture with four distinctive traits: 'Fearless Imagination', 'Seductive Embrace', 'Passionately Discreet' and 'Dynamic Connoisseur'. Defining a bold yet sensuous and alluring vision, the resort offers a sanctuary for lovers of life seeking intimate moments together, exploring new frontiers of indulgence in the island's seductive embrace.
There are temptations to discover this Valentine's Day as Dhoni sails billow, venturing further into the azure beyond, and the soothing sanctuary of the world's first underwater spa beckoning beneath the surface. Every story is different, each experience unique.
Exclusive Sandbank Valentine's
With a Valentine's location to eclipse all others, couples can surprise their partner with a sumptuous barbeque dinner under the heavens. A fantasy that pairs private use of the resort's sandbank with evocative dining for a Passionately Discreetexperience. Couples will enjoy luxury dining with a private chef, a bottle of Krug Rosé Champagne and a live duo serenading into the night.
Adrift on a Dream
Luxury adrift, a seductive escape over the water. A private dhoni cruise for two sets sail as sunset marbles the sea a million reds. Canapés, a private chef and a five-course gourmet dinner prepared to perfection. Couples can Cristal toast to infinite love in the perfect Seductive Embrace.
Underwater Valentine's Rendezvous
Intimacy, privacy, romance – embraced by a world of blue. A truly exceptional spa and dining experience for two designed with Fearless Imagination, surrounded by vibrant Maldivian marine life. Sensuous massages and facials, the finest bubbles, a five-course gourmet dinner dreamed up by a private chef.  This is an exclusive experience for one couple only for a unique celebration of endless love.
Fully immersing guests with indulgent offerings, couples can Celebrate Romance and their journey of togetherness at Huvafen Spa with a tantalising red wine body scrub and Ylang Ylang couple's massage. Or, set in a private cabana along Stingray Beach, a five-course gourmet menu and Champagne sets the mood for an evening of Romance Under the Stars.
Set in sensuous surrounds and an atmosphere of total discretion, couples can slip away from prying eyes to relish unbound intimacy at Huvafen Fushi. Impeccable style has been reached with chic accommodation and refreshed interiors, enhanced by Bottega Veneta, creators of exquisite bathroom amenities. Culinary experiences designed with passion in breathtaking and creative locations mean an abundance of choice.
Accommodation at Huvafen Fushi visit www.huvafenfushi.com.