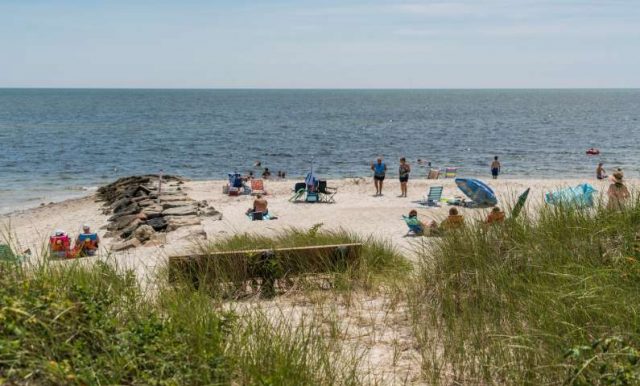 Spring is here which means it's time to start making those summer travel plans! Whether it's getting out on the water for a whale watching tour, enjoying an outdoor concert in the mountains or catching a baseball game in Boston, it's no wonder why Canadians keep coming back from more summer fun in
Massachusetts. In fact, according to the Conference Board of Canada's summer travel intentions survey, Massachusetts saw an increase in reported trip intentions between 2017 and 2018 and overall, the trend for vacation plans including the New England region has been positive over the past four summer seasons.
One of the best ways to experience all that this destination has to offer is behind the wheel on a road trip. It's now even easier to plan your adventure thanks to the free Visit MA app which allows you to create bespoke itineraries or follow along popular routes including the Massachusetts Whale Trail and Masterpiece Trail.
So, from the mountains of the Berkshires to historic ports along the coast and everywhere in between, it's time to choose your own adventure in Massachusetts! Check out all of the latest and greatest offerings across the state for spring and summer 2019 below:
Greater Boston
Who doesn't enjoy walking around the city, visiting parks, stopping by small boutiques and enjoying a meal on a patio during a beautiful summer's day? With the historic Freedom Trail alongside modern museums and a thriving food and drink scene, Boston is well worth exploring over a weekend and for years to come. Here are some of the newest offerings to uncover here:
· Time Out Market – Summer 2019
The Time Out Market is a food-hall style emporium coming to Boston's Landmark Center. Ashort walk from Fenway Park and several area college campuses, the market is part of a revitalization of the vast Landmark Center.
· Four Seasons Hotel One Dalton Street – Opening Summer 2019
Boston's iconic Back Bay skyline has indelibly changed with the addition of the new Four Seasons Hotel One Dalton Street. The property will feature a spacious ballroom and ample meeting space, as well as elegant urban spa, urban fitness center and a contemporary Japanese izakaya called Zuma.
North of Boston
The North of Boston region is comprised of two unique areas, North of Boston and The Greater Merrimack Valley. On the North Shore, explore gorgeous coastline filled with stunning beaches and cultural stops as varied as the Salem Witch Museum, Shalin Liu Performance Center and more. In the Greater Merrimack Valley, you can relive the revolution in Lexington and Concord.
· 'Lobster and Liberty' Themed Itineraries – Summer 2019
Launching this spring in Massachusetts are the all new Lobster and Liberty trip itineraries. These visitor guides will take travellers on journeys that highlight the best that the region has to offer; incredible seafood paired with fascinating historical stops including day trips from Boston and more.
· The Roof at The Salem Hotel – Now Open
Summer is the perfect time to enjoy Salem's first rooftop bar. Located at the top of The Hotel Salem, this seasonal dining space features an outdoor kitchen and expansive views of Salem's cobblestone streets and bustling harbor. The hotel is a 44-room boutique hotel located on Salem's bustling Essex Street and housed in a former department store space, this ultra stylish property just opened in 2017. The hotel is outfitted in mid-century modern decor with vintage retail inspired touches that are inspired by the New England department stores of yesteryear.
Cape and The Islands
Summer is arguably one of the best seasons to visit Cape Cod and the iconic islands of Martha's Vineyard and Nantucket. Swimming, spending time at the beach, staying at a quaint inn on the sea, or simply walking around and enjoying the magical view and sunny skies are just some of the many activities to enjoy in this classic holiday spot.
· The Inn at Yarmouth Port – Now Open
Discover a perfect balance of modern amenities and European antiques throughout this historic ship captain's home. From century-old wide plank pine floors and beautiful moldings to fireplaces evoking times past, each guest room at this historic Yarmouth Port inn welcomes visitors to enjoy a piece of Cape Cod's history.
· Cape Cod Cultural Center: Harley Davidson Special Exhibition "Art on Two Wheels" – September 2019
The Cultural Center of Cape Cod will be filled with an extraordinary exhibit of Harley-Davidson motorcycles and motorcycle art from the collection of David McGraw, who has worked for decades to acquire and restore iconic Harleys and other fine machines, including some so rare that even Harley-Davidson does not own them. The exhibit will be celebrated with "Leather and Lace," a special event on Friday, September 20, before opening to the public on Saturday, September 21.
South of Boston
The eclectic South of Boston region is filled with the likes of nearly 400 years of history, charming fishing villages, beaches and unexpected art to explore.
· Plymouth 400 – Throughout 2020
This summer is a great time to check out all that Plymouth has to offer ahead of 2020 when it is sure to be in the spotlight for its 400th Anniversary commemorations. Plymouth 400 is an anniversary of national and international significance of the Mayflower voyage and the founding of Plymouth Colony. Plymouth 400, Inc. is planning Signature Events and Programs throughout 2020 which will include historical and cultural exhibitions, multi-day festivals, original arts and entertainment collaborations and educational programming.
North Central Massachusetts
Visit North Central Massachusetts and explore Johnny Appleseed Country! This scenic region is quickly becoming one to watch with its exciting outdoor adventure activities and booming craft beer scene.
· Brew Barn – Summer 2019
Summer meets fall thanks to a collaboration between Red Apple Farm and Moon Hill Brewing Co. From mid-June through mid-August, Brew Barn will be serving up local brews, fresh roasted nuts, and popped-on-the-spot popcorn along with other farm favorites.
· The Groton Inn: America's Oldest Inn Re-imagined – Now Open
Within the last year North Central Massachusetts saw the grand opening of one of the region's most beautiful boutique hotels, The Groton Inn. Just 35 miles from Boston, this was once America's oldest inn. The original structure (circa 1678) was destroyed by fire in 2011 and has been meticulously re-imagined as a new 60-room boutique hotel.
Western Massachusetts
If you prefer mountains over the ocean, then Western Massachusetts is the region for you! This rural area is famous for its summer concerts at Tanglewood, an outdoor music venue nestled in the mountains of the Berkshires, world class spas and outdoor adventure activities. It's also home to art institutions including the MASS MOCA, the largest centre for contemporary visual and performing arts in the country and The Clark with its impressive collection of classic masterpieces.
· Norman Rockwell Museum 50th Anniversary – June 2019
The museum dedicated to famous American author announced that a yearlong celebration of it's 50th anniversary will start in June of 2019. A total of three exhibitions will be displayed from June 8th 2019 through October 27th 2020. The exhibitions will feature Rockwell's art, life, and legacy and it will include photographs, digital media, and artifacts.
· The Clark – Summer 2019 Program
The Clark Art Institute, located in the Berkshires of western Massachusetts, is one of a small number of institutions globally that is both an art museum and a center for research, critical discussion, and higher education in the visual arts. The Clark always has something new to discover and for summer 2019, its exhibitions and events will highlight art, nature and culture.
· 65th Anniversary Season of Williamstown Theatre Festival – Summer 2019
The Tony Award-winning theater company has announced the line-up for their 65th season which includes a production of A Raisin in the Sun, a new translation of Ghosts, and many more. The season will begin on June 25th and will continue until August 18, 2019.

---