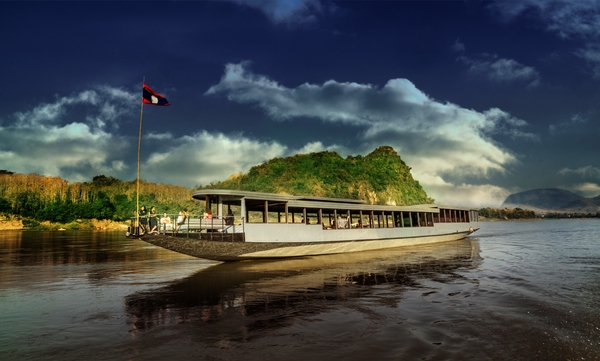 An exotic new frontier in river cruising is being pioneered for wanderlusters along Southeast Asia's most mysterious waterway with the launch of an inspired new fleet of five custom-designed river cruisers which are boldly exploring uncharted waters along the upper reaches of the mighty Mekong in northern Laos.
With plucky new routes, bespoke itineraries and curated experiences, 'Mekong Kingdoms' promises "a journey of exotic nature and curated exploration, art and culture, where wonder and discovery know no bounds".
Vessels range from an opulent 13 all-suite river cruiser celebrating the 'Golden Age' of travel with stately, snug cabins and huge picture windows to watch the timeless river world go by – to a lively 'floating lounge', for DJ parties and high-profile events, a 40-metre shuttle for day-time and sunset tours, a lavish two-cabin raft for romantic, free-spirited adventures into uncharted waterways, and a graceful 'water taxi' for sunset champagne cruises.
The diverse fleet enables a multitude of cruising options – from high-profile corporate and social events to weddings and romantic getaways.
Steeped in local mystique, this innovative new approach to the entire, formulaic cruising concept is delivering "impactful, off-the-beaten-path experiences" immersed in the Mekong's captivating river lifestyle, rich natural beauty, fabled cultural heritage and colourful cuisine – with storytelling and tribal encounters along the way.
Mekong Kingdoms sets itself apart for the coolest and most aesthetic luxury cruising between the two ancient Buddhist kingdoms of Lanna and Lan Xang – from the historic Laos capital of Luang Prabang to Chiang Kong on the Thailand border, near Chiang Rai and the infamous 'Golden Triangle'.
From its home-port in the fabled UNESCO World Heritage gem of Luang Prabang, Mekong Kingdoms (www.mekongkingdoms.com) is a self-proclaimed "maverick" introducing a variety of dynamic cruises that truly "stand out from the crowd".
Targeting "connoisseurs, adventurers, artisans, daredevils and lovers", the concept is the vision of co-founder Jean-Marc Huss, a French artist and entrepreneur who introduces an artistic flair to the onboard experience with an ever-changing gallery of beguiling artwork and captivating décor and design.
From artistic lighting and furnishing to charismatic fabrics and charming tableware, every aspect is designed to "stand out and impress".  The same attention to detail applies to the dining on board, curated by a celebrity chef bringing an "Iron Chef" twist to ethnic cuisine.
Eclectic onboard activities are also decidedly innovative – from cooking with chefs and yoga with yogis to learning local dances, jewelry making and fishing for river monsters!
"We're pioneering a charismatic new way to celebrate the colours of Indochina and the soul of Asia along the 'Amazon of Asia' – whether for elegant meandering, lively parties and events, or intimate romantic adventures," he said.
"These are sophisticated cruises with spirit and soul that dream big and take the waterways less travelled for modern-day pirates, smooth operators and thrill-seeking partygoers – the criminally cool and young at heart."
Dedicated to innovation with a signature attitude, approach, style and service, a fleet of five distinctly different, custom-designed river craft, each with their own distinct personality, "bring the party to the Mekong" with diverse cruising and private charter options balancing refinement with revelry.