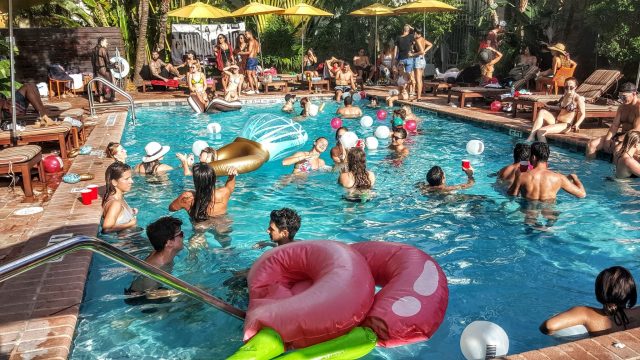 Miami Beach is a one-stop vacation destination for travelers in need of an out-of-the-box escape from the day-to-day. According to The Innovation Group, millennials crave memorable experiences, and their travel plans are expected to increase by 36 percent increase in 2018.1 With this in mind, Miami Beach continues to develop new, year-round experiences to cater to travelers including communal and organic dining options, trendy hostel accommodations and interactive experiences that make Miami Beach truly like no other place in the world.
"As an international hotspot for tourists, Miami Beach welcomes millennial travelers seeking impactful experiences that celebrate the art of travel," said Grisette Roque, Executive Director of the Miami Beach Visitor and Convention Authority. "From our rich Art Deco history and evolving cultural scene, to our diverse food scene, there's something for everyone here, no matter their traveling style."
Miami Beach caters to millennial travelers with endless options set amongst the world's most famous stretch of sand. As a way to help globetrotters create the perfect getaway, the Miami Beach Visitor and Convention Authority has curated a weekend guide to help get the vacation planning started:
What to Do:
Art Deco Tour: Walk off lunch or dinner with a $25 tour and learn about Miami Beach's historic Art Deco District—which includes infamous Ocean Drive, Lincoln Road, and Española Way.
Sing Sing Karaoke: Staying "in" on the weekend has a whole new meaning in Miami Beach. Instead of hitting the dance floor, grab the crew and sing the night away to classic hits while sipping on refreshing well drinks, beer, or wine.
Farmers Market: If fresh fruits and coco Frio whet your appetite, then head over to this market for handpicked food options and vintage souvenirs on the cheap.
New World Symphony's WALLCAST Concert: Put away those heels and dress shirts, and opt for blankets and lawn chairs while enjoying a free concert at SoundScape Park—featuring soothing sounds from the New World Symphony.
Where to Eat:
Big Pink: Sleeping in on the weekends doesn't mean missing out on tasty breakfast options. Big Pink serves breakfast anytime. Enjoy juicy steak and eggs, fluffy pancakes, or an omelet filled with bacon, onions, and scallions topped with sour cream and salsa. Wash it down with freshly squeezed orange juice or the restaurant's infamous smoothie.
Bacon B*tch: All bacon lovers will appreciate this sassy establishment as the menu boasts sweet, salty and savory brunch options for the entire crew. With everything from hash browns to turkey sausage, eggs, and, of course, bacon—leaving satisfied is an understatement.
Sriracha House: Have one last hoorah with friends before reality hits and enjoy the Pan-Asian cuisine, unique rice dishes and bubble tea at this crowd-pleaser of a restaurant on Washington Avenue.
Where to Stay:
The Freehand Miami: More than just a place to stay, The Freehand Miami houses an award-winning bar, the Broken Shaker, and is conveniently located one block away from the endless sun, sand, and surf. In addition to these perks, guests can enjoy complimentary happy hour, bicycles, Wi-Fi, and curated activities, like yoga and disco Frisbee—making this the hostel that keeps on giving.
SoBe Hostel: Just two blocks away from the beach, SoBe Hostel provides travelers with a lively atmosphere to create unforgettable memories. Guests can enjoy a 24/7 open bar, pool parties, bike rentals and welcome gatherings that offer a traditional Miami Beach experience, complete with tropical cocktails.
Bikini Hostel Café & Garden: Located in the heart of Miami Beach, the Bikini Hostel Café & Garden hosts weekly pizza parties, ping pong tournaments, free breakfast, and weekly socials featuring endless BBQ for all guests. For those looking to travel in large groups, the hostel offers group discounts and spacious accommodations perfect for the whole travel team.
For more information on ways to enjoy the perfect weekend getaway in Miami Beach, download the Miami Beach Information App at www.miamibeachapi.com/app/.