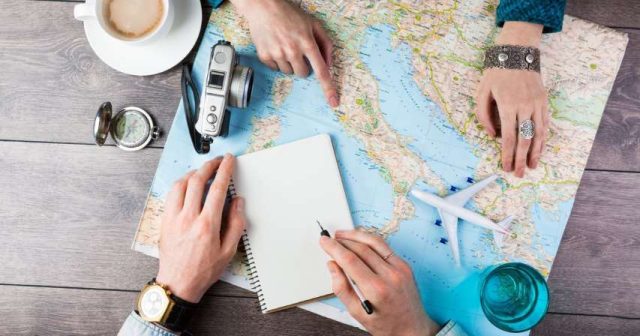 If the high cost of inflation has you rethinking your summer travel plans, you're not alone. It's affected everything from food and fuel to airfare and hotel rates. In fact, more than half of US travelers state that inflation has thrown a wrench into their travel plans this year. Even some domestic round-trip tickets are averaging out at about $350 dollars, up 10 percent from last year. That said, it's no wonder so many people are looking for ways to save money and still take their annual summer vacations. But is it possible, or will this be the year that more people to go on a staycation? If you're determined to go on vacation this year, there are ways to offset the price. Just need to know how to do it.
Be Financially Prepared
Unless you're wealthy, no one was prepared for the ever-rising cost of inflation. Even if you set aside money each month in a vacation fund, the prices have skyrocketed this year, making it hard to take the vacation you really want. In addition to saving more in the upcoming months, you could think about getting a personal loan to cover travel costs. Note, this solution isn't for everyone, however, if you're financially stable and looking for immediate funds, a loan might be right for you. You should consider the pros and cons of borrowing money. You can also review a guide about the loan process, if you've never had one before, to ensure you understand how the process works.
Choose Alternative Dates
From early June to mid-August, prices are usually at their highest. Most people go when their kids are out of school, which means the demand is higher. If possible, you plan your trip in off-season, or at the very beginning or end of peak season. In many cases, you can score great deals on airfare and lodging. The end of August and September are two of the best times to travel, both domestic and abroad. In addition to kids going back to school, most people are due back in the office. Since the demand for hotel rooms and even plane tickets are less, the cost usually mirrors that.
Choose Different Locations
In the US, there are several places that are considered tourist hotspots. Florida is known to get millions of visitors each year. Miami, Orlando, and Daytona Beach are three of the top contenders, making them more expensive than less-known areas. The same holds true when travelling overseas. Hotspots, such as Italy or France, always see a huge influx of tourists in Rome, Positano, Capri, and Paris. You might be able to book a cheap all inclusive vacation but you will still need to research various locations to catch a great deal.
Use Points and Perks
Depending on your credit card issuer, you may be missing out on free travel. Many cards offer users points, which they can use for hotel stays, airfare, or train tickets. If you have a preferred airline, you can also sign up for their rewards program and stockpile points for future use. If you travel for work, you can save those points and put them towards seat upgrades or additional tickets.
Open a New Line Of Credit
If your credit is in good standing, you could consider opening a new line of credit. Why? Because many companies offer welcome bonuses and cash-back rewards. When you use your credit card, the company gives you a percentage of what you spend back in points or cash. You can then apply the reward to the balance, or again use it to pay for hotels, dining, or tickets.
Split the Cost
If you usually meet up with friends or other family members, you could ask them to split the cost of the trip. Instead of staying in multiple hotel rooms, you could all chip in and pay for one larger suite, an apartment or villa. These types of accommodations usually have kitchens, which means you can save even more money by cooking your own meals. On that same token, you can also split the cost of food to help keep the cost of eating low. Not only will you save money, but you can also eat a lot of healthier as well. Restaurants situated in tourist areas aren't always the healthiest choice. They may use low-quality ingredients to save money, which are high in fat and calories.