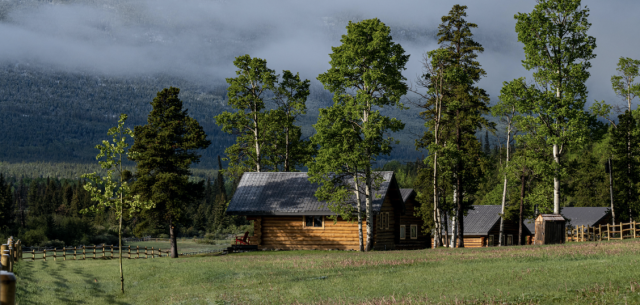 The Xeni Gwet'in First Nation and Tŝilhqot'in National Government are pleased to announce that Nemiah Valley Lodge opened for business on June 23, 2022. This is the Nation's first tourism venture on Tŝilhqot'in Title Lands. After a long and hard-won battle all the way to the Supreme Court of Canada, on June 26, 2014 for the first time in Canadian history, these lands were recognized as Aboriginal Title Land. Aboriginal title includes the rights to control the land, to decide how it will be used, to use the land for traditional and modern purposes, as well as full benefit and ownership of the lands and resources. This area is located within the caretaker area of the Xeni Gwet'in People who have always known that we are stewards of this incredible natural area.
The Xeni Gwet'in community are welcoming guests to Nemiah Valley Lodge after a two-year renovation with over $1 million of improvements to the Lodge, seven cabins (each divisible into two units) and Lake House (located on Vedan Lake). Funding in part for this renovation was provided by the Community Economic Recovery and Infrastructure Program (CERIP) from the Province of BC.

Located in the Chilcotin region of British Columbia southwest of Williams Lake in a setting of wild grasslands, majestic coastal mountains, verdant forests and alpine lakes, the heart of the experience being offered to guests will be authentic and immersive cultural sharing including an arrival evening welcome and cleansing ceremony with a Xeni Elder and Knowledge Keeper, opportunities to learn traditional skills such as, beading, archery or hide tanning, story telling and drumming, as well as outdoor medicinal plant tours, lake-based activities. The trip also features a visit to the traditional village site on magnificent Chilko Lake, North America's largest natural, high alpine freshwater lake, framed to the west by the snow-capped Coastal mountain range that divides the Chilcotin plateau from British Columbia's ocean coastline.
First Nation Administrator and General Manager, Dalton Baptiste shares, "Guzun Newheniyash – It's good that you will join us. On behalf of the Xeni Gwet'in People, we are pleased to welcome visitors to our home and share our culture, teachings of stewardship and respect for these lands. Our People fought in Court to achieve recognized Aboriginal Title and get to a place where we could benefit from our land and manage it in a way that honours our traditional ways. This Lodge represents an important bridge to building understanding and mutual respect – visitors will leave enriched and transformed by their experience with us. I am excited for Xeni Gwet'in to be undertaking this venture and the benefits and future opportunities it will bring our People."
"It is a proud day for Xeni Gwet'in First Nation and the Tŝilhqot'in Nation", said Chief Otis Guichon, Vice-Chair for the Tŝilhqot'in National Government. "It's been such a journey for the Tŝilhqot'in People to get here since achieving recognized Aboriginal Title in 2014. This is a historic achievement and an incredible opportunity to share Tŝilhqot'in culture and traditions with others, and to showcase the powerful beauty of the Xeni Gwet'in caretaker area." Guests of the Lodge as part of their all-inclusive package, will also enjoy an Indigenous-informed menu prepared by award-winning chef Ben Genaille, a past member of the Indigenous culinary Olympic team, whose signature approach to cuisine infuses local knowledge, local produce and world-class culinary skills. Three and four night packages are being offered from June 23, 2022 to October 1, 2022. Visit www.nemiahvalleylodge.com for more details.