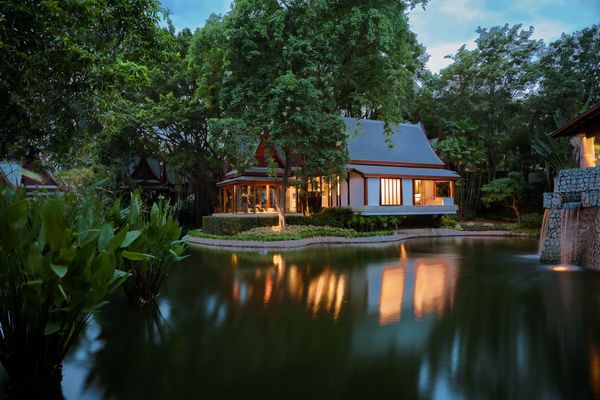 Award-winning wellness resort announces the next phase of renovations with previews of the new Thai Pavilion Rooms and Suites
November 2017, Chiva-Som International Health Resort, which enjoys a reputation as a pioneer in global wellness, is proud to unveil the first images of the mock-up renovated Thai Pavilion room and the brand new Thai Pavilion Suite which will open in November 2018. Along with the accommodation, renovations to the Fitness area, the Emerald Room and the Orchid Lounge will also be unveiled in November 2018. This enhancement to the resort's offering follows the launch of the new Ocean Rooms and Suites in January 2017 and is part of the resort-wide renovation plan which, after short periods of closure from 1 May – 31 October 2018 and the same period in 2019, will see the resort relaunched into a new era of wellness.
The style of the new interior is contemporary Thai, and is realised with materials such as local teak, silk and bamboo. With an outdoor terrace, the aesthetic of the Thai Pavilion Suite is light and serene, creating a calming effect and reflecting the tranquillity of the resort. The enlarged space makes the surrounding greenery much more relevant to the guest's experience. The Thai Pavilion Suite comprises a bedroom and en-suite bathroom spread across 76 sqm. Space has been maximised to give guests an expanded bedroom and living area, including an additional long sofa and study desk; a larger bathroom, now with two vanity counters, a new make-up counter and more connecting space for shower room and bathtub; and a larger dressing room with two luggage racks and floor to ceiling wall mirrors to reflect even more light. For more relaxation and well-being, the ceiling has been raised to give an airy feel.
The 'Thai Pavilion Suite' is approximately 107 sqm. and includes an outdoor pantry and its own outdoor private sala, its most unique feature.  This glass-walled private space for around six guests is set amidst the tranquil gardens and is suitable for private breakfast, lunch and dinner, meditation or just for relaxing.  Glass doors, automatic blinds and insect screens in the sala can be kept open or closed, in either case offering beautiful views of the surrounding lake and gardens.
The wellness resort's multifaceted renovation will be implemented under the direction of Mr. Krip Rojanastien, Chairman and CEO of Chiva-Som International Health Resort, together with Design realization Siam Co., Ltd, a distinguished design company, allowing for innovations in Chiva-Som's offering and a unique wellness experience for guests throughout their stay.
Chiva-Som is Asia's first comprehensive wellness retreat and destination spa, providing an integrated and personalised approach to transformations of mind, body and spirit for optimal well-being.
For more information on Chiva-Som visit www.chivasom.com