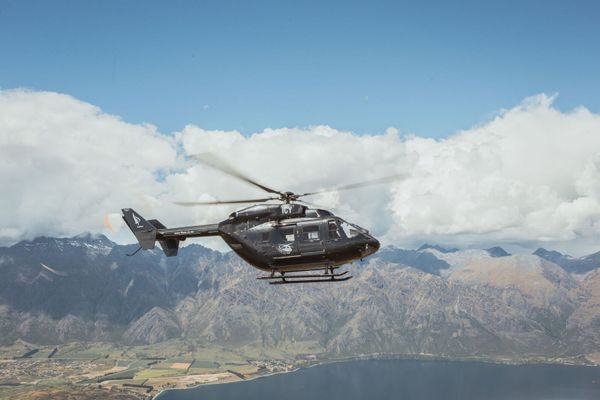 Queenstown luxury helicopter operator, Over The Top, unveiled their latest helicopter yesterday evening at a launch event held at their Queenstown airport base.
The leading luxury helicopter operator is excited to introduce a twin-engine BK117 helicopter to its fleet of premium helicopters just ahead of the busy summer season.
To date, Over The Top continues to be the only Queenstown operator to offer twin-engine helicopter services out of the premier resort town. The company's BK117 is the largest helicopter permanently based in Queenstown and offers seating capacity for up to nine passengers.
"Since Over The Top was established in 1986, our pioneering philosophy has always been that are we not so much a helicopter line as an entertainment company.  Our focus is to deliver an unforgettable experience to our clients that encompasses quality time on the ground enjoying the pristine outdoors of Fiordland's glaciers and rainforests with a stunning helicopter flight", says Louisa Patterson, founder of Over The Top and Chief Pilot.
She adds, "As the luxury tourism industry continues to grow, we are always looking ahead to deliver on these excursions. With the addition of the BK117 we have improved capacity to meet the demands of our discerning clients, and with safety being paramount, the BK117 helicopter meets CAT A requirements"
The nine-passenger seat helicopter is instantly recognisable with Over The Top's sophisticated and black-charcoal livery. The large capacity allows groups and multi-generational families to travel together either in the nine-passenger seating arrangement, or the VIP six-passenger configuration. The high-spec interior is appointed with leather seats and noise-cancelling Bose© headsets offering a level of comfort and style to be expected from Over The Top.