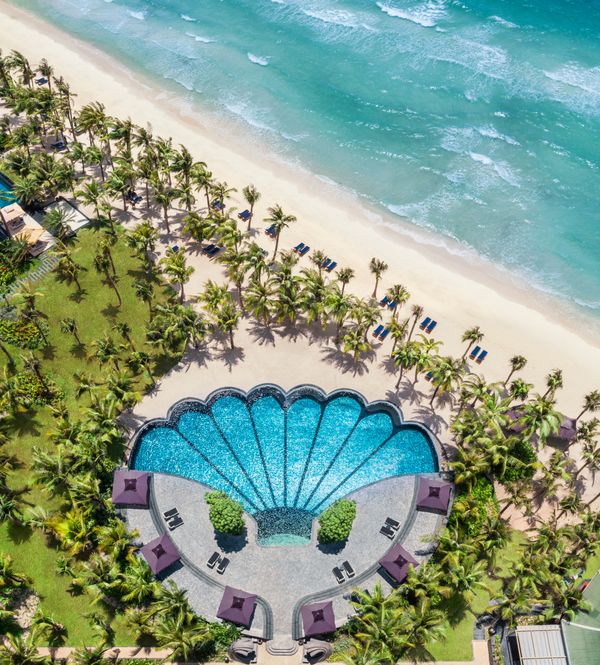 Home to stunning beaches and one of the world's most creatively ambitious new luxury design hotels; new flight connections via TUI Airways and Bangkok Airways, complementing Vietnam Airlines' existing daily services; major ongoing investment in tourism infrastructure; beautiful beaches blessed with almost year-round sunshine; and no need for a visa: it's easy to see why Phu Quoc is set to be top of the luxury travel class this winter.
Named Asia's Leading New Resort soon after opening earlier this year, Vietnam's fantastical, academia-inspired JW Marriott Phu Quoc Emerald Bay is the spectacular, award-winning vision of 'the Willy Wonka of hotel design', famed architect and designer Bill Bensley. Letting his imagination run wild, Bensley dreamt up the fictional 'Lamarck University' as the backstory for the resort – and the collegiate vibe is evident at every turn. Guestrooms are divided amongst various faculties such as the Zoology Department, entered via gates flanked by elegant statues of elephants and lounging leopards; or the Department of Conchology (the study of shells), overlooking the Insta-iconic shell-shaped infinity pool. There's even a daily timetable of 'extra-curricular activities' around the resort campus, and exclusive 'Field Trips' to explore and discover Phu Quoc.
Identified by the Vietnamese government as a key tourism hotspot, Phu Quoc is a southern island gem which is already benefiting from its status as a Special Economic Zone. Major investment in tourism infrastructure – including the redevelopment of the island's airport, new highways, a new international passenger port, and a wave of new luxury hotel developments – are paving the way for Vietnam's 'Emerald Isle' to establish itself as Asia's hottest new destination for connoisseurs of luxury travel.
The opening of JW Marriott Phu Quoc Emerald Bay coincided with a surge in international tourist arrivals to the island, which rose by 77 per cent year-on-year in the first six months of 2017. This trend is set to continue as significant new air links bring Phu Quoc closer than ever: Already easily accessible to UK travellers thanks to national flag carrier Vietnam Airlines' daily flights from Heathrow to Vietnam, this month also saw the launch of the TUI Airways' new weekly nonstop charter service, as well as a new Bangkok Airways flight from the Thai capital four times per week.
For now though, Phu Quoc remains a 'fresher' on the tourism scene, still able to offer charming local villages, bustling markets, rich jungles and reefs teeming with wildlife, and those elusive stretches of unspoilt powdery beach. With its paradisiacal private setting on Phu Quoc's 'ice cream' beach; a choice of stunning rooms, suites and private pool villas; and an inspiring 'curriculum' of experiences from award-winning spa treatments to cultural activities; JW Marriott Phu Quoc is ideally suited for romantic getaways and family holidays alike.
For more information visit: www.jwmarriottphuquoc.com