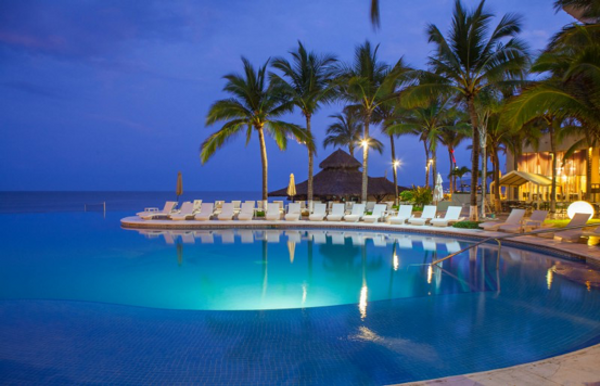 Puerto Vallarta and Riviera Nayarit have become Mexico's newest hotspots as more tourists visit for the sun, sea and sand. But how can the neighbouring destinations keep up with the demand? Puerto Vallarta and Riviera Nayarit have big plans for 2018.
The Hotel Bel Air in Flamingos, Riviera Nayarit, expands under the Krystal Grand brand. The property will transform into a top-tier seafront resort with 480 new guestrooms, one suite, a convention centre and 12 restaurants.
In Puerto Vallarta, the new 54-room Hotel Amapa gifts sun seekers with an authentic Mexican experience. The minimalist 9-storey property will boast breathtaking ocean views, a unique rooftop pool and bar, a spa pavilion, a restaurant and access to the nearby El Dorado Beach Club.
But Puerto Vallarta and Riviera Nayarit pack much more for 2018. An $870 million investment towards a new 630-acre La Mandarina Complex adds two polo fields, an equestrian centre, two obstacle courses, villas and hotels. Within the complex, the new One&Only Mandarina will redefine luxury in Riviera Nayarit.
Meanwhile, an interactive cacao and chocolate museum complements Puerto Vallarta's bustling Malecón. Visitors can make chocolate treats, discover 4,000 years of chocolate history and learn how cacao beans are processed into delicious goodies, from chocolate bars and ganache truffles to cacao tea and chocolate fondue.
Puerto Vallarta and Riviera Nayarit offer a lot to holidaymakers, and 2018 promises even more. So what are you waiting for? Discover your paradise along Mexico's Pacific Coast!
Visit www.visitpuertovallarta.com for more information or www.rivieranayarit.com