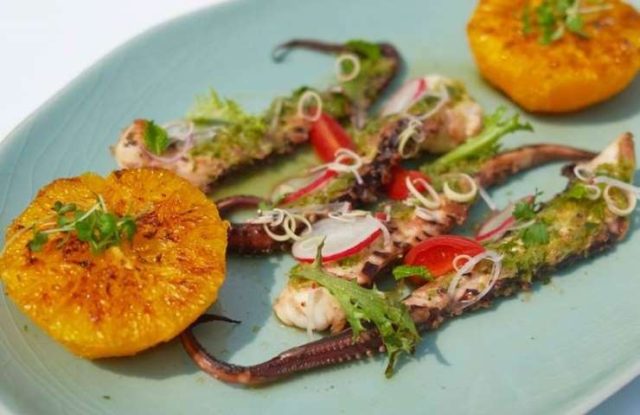 The first five-star hotel to debut in Chiang Mai in Thailand's mountainous north since the onset of the global pandemic is embracing sustainability and promoting healthy eating with the launch of its '360° Cuisine' concept.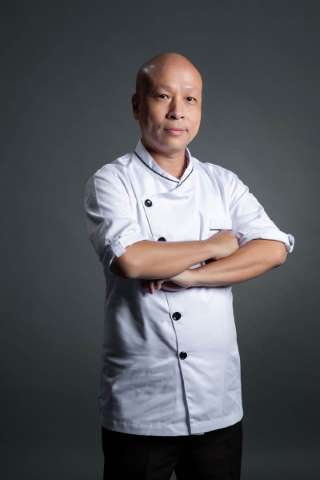 Suksant Chutinthratip (Billy), the executive chef at Meliá Chiang Mai, a 260-key urban hotel due to open April 8 on Charoen Prathet Road in the heart of Chiang Mai, has crafted dishes that include produce from the hotel's organic farm and use every part of each ingredient possible before leftovers are returned to the farm as compost.
"Our 'farm to plate' efforts, sourcing organic produce that travels only a short distance to our hotel and using every part of each ingredient we can – roots, leaves, stems, stalks and more – come full circle with 'plate to farm', whereby we return food waste back to the farm as fertilizer in a truly 360° concept," Billy said.
Under the program, the hotel's kitchen works closely with local farmers to help them improve sustainability and encourage ethical production, in a bid to make communities and the overall food system more resilient. Meliá Chiang Mai recently partnered with ORI9IN The Gourmet Farm, a 350-acre gourmet organic farm located in nearby San Sai District, to grow an array of fruits, vegetables and herbs on a two-acre plot on the broader ORI9IN property for its restaurants, bars and spa.
Through the partnership with ORI9IN, local farmers assist the hotel with import substitution, growing various kinds of tomatoes, salad leaves, and specialized ingredients such as padrón pepper, that would otherwise need to be imported from Spain for the hotel's authentic Mediterranean cuisine.
Billy's emphasis on "thoughtful cooking", that minimizes food waste through using as much of each and every ingredient as possible, is encapsulated in signature 360° Cuisine dishes. 'Khao Khaab Hor Goong' is chilled prawn salad wrapped in sesame rice paper, with piquillo peppers, fried tofu, fermented rice noodles and fresh Vietnamese mint and 'Pla Muek Yang Som' is grilled marinated octopus salad with caramelized Valencia orange, red radish and orange dressing.
"For Khao Khaab Hor Goong, for example, we use the prawn shells, prawn heads and garden herb stems for our stock base to poach the prawns, and lemon zest as part of the sauce to give a disarming citrus fragrance and flavor, before the leftover cooking oil is sent to be recycled into biodiesel," Billy said.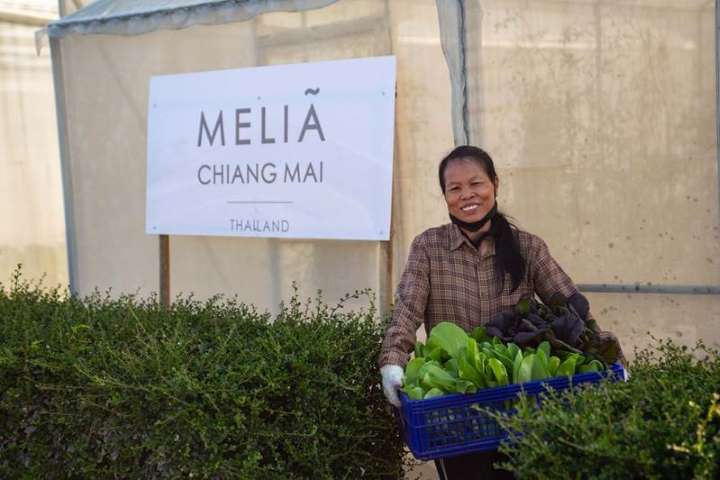 The 360° Cuisine program is also designed to give guests peace of mind about where their food comes from by encouraging them to visit the ORI9IN farm to meet local farmers and learn more about sustainable farming.
Drawing on Meliá's Spanish origins and celebrating Spain's famed gastronomy, Meliá Chiang Mai's dining landscape will feature restaurants Mai Restaurant and Bar and Laan Na Kitchen, bars Mai The Sky Bar and Tien Pool Bar, and lounges Ruen Kaew and The Level Lounge.
---
Incredible hotel deals to book now at Expedia.com!