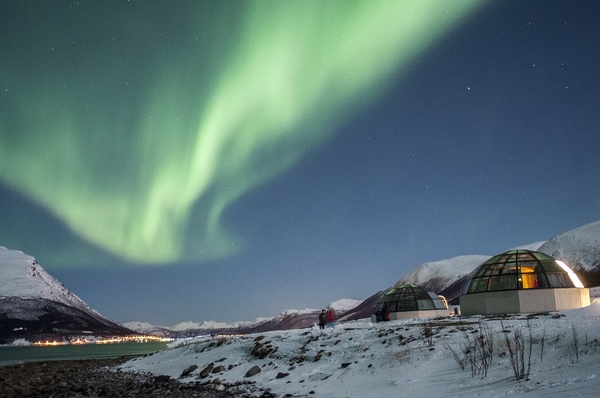 Nordic travel specialist Magnetic North Travel has expanded its Northern Lights programme for winter 2017/18 to introduce more ways than ever to spot the Aurora Borealis. The new programme includes romantic, stylish and adventurous ways to tick the Aurora off travellers' bucket lists.
Gaze at the Aurora from the glass igloos in Lyngsfjord, Norway
Set by Lyngsfjord's calm waters, these new igloos allow fabulous views of the Aurora thanks to their glass walls and the area's minimal light pollution. Each igloo contains beds that can be adjusted at the push of a button to get the best views, as well as living areas, heated floors and kitchenettes. Stays can be combined with activities such as dog sledding or whale watching.
Set your sights on an Aurora flight in Tromso, Norway
The weather can mean that Northern Lights sightings are not guaranteed, but travellers can maximise their chances of a sighting with special flights that depart from Tromso Airport and that get high above any potential cloud cover. Offered from January until March 2018, the flights come with a complimentary glass of bubbles ready to toast that Champagne moment when the sky is streaked with greens and purples.
Admire the Northern Lights while whale watching off the coast of Norway
Set sail on a century-old, two-mast schooner in search of both the Northern Lights and whales. Winter excursions take place over two nights and passengers can expect to come across mighty orca or humpback whales on the water, and sea eagles, stars and the Aurora in the skies above. Guests can also view majestic fjords, try their hand at sea fishing and venture on Arctic hikes (when the ship ports).
See the Lights while dining in an Ice Dome in Tromso, Norway  
One of Tromso's latest attractions is the Tromso Ice Domes – an adventure hub constructed of ice and snow that hosts a restaurant and two ice bars. Evening expeditions by dog sled, reindeer sled or snowmobile offer a great chance to view the Northern Lights before returning to dinner in the Ice Domes. Some experiences depart at midnight for the best Aurora viewing. Tours are available from early December 2017 to March 2018.
Combine a Northern Lights-spotting trip with downhill skiing in Alta, Norway
Cabin culture is a way of life in Norway with most of the population spending at least two months of the year in rural accommodation. Visitors can stay in similar cabins to get a prime opportunity to spot the Aurora at the same time. This brand new mountain lodge offers accommodation with large window seats so visitors don't even need to go outdoors. Those that want to can take in views over the Alta Fjord, explore downhill ski slopes, learn to Fat Bike or enjoy an adrenaline-fueled zip wire.
Go on safari at the Northern Lights Ranch in Kittila, Finland
The high latitude of the Northern Lights Ranch near Kittila makes it perfect for Aurora viewing, and its close proximity to Kittila Airport offers easy access from London. The ranch offers chalet-style accommodation, some with private saunas and hot tubs, as well as luxury Olokoto cabins that feature glass walls and ceilings for optimum Nothern Lights viewing.
Cuddle up in a romantic cabin in the Boreal Forest, Sweden
To add a splash of romance to a Northern Lights trip, couples can sample the new Loggers Lodge, a private cabin retreat in Northern Sweden's Boreal Forest. Lovingly restored, it offers a private sauna, an outdoor hot tub from where guests can view the Aurora Borealis, meals prepared by a private chef, a showcase open fire, and activities in the surrounding woods.
Dine in perhaps the smallest restaurant in the world in Kiruna, Sweden
For an incredibly intimate gourmet Northern Lights experience, guests can head to the Arctic Gourmet Cabin in Kiruna. Possibly the world's smallest restaurant with just two tables, chef Johan provides meals with local ingredients from reindeer and arctic char, to berries foraged from the surrounding woods. Visitors can view the Northern Lights from the restaurant's glass windows, an outdoor hot tub or one of the two on-site sleeping cabins.
For more information visit www.magneticnorthtravel.com