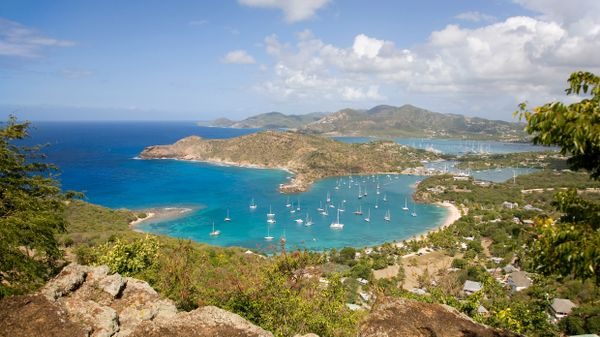 HOTEL NEWS
The Royalton Antigua has welcomed the first overwater bungalows in Antigua
Situated on Deep Bay, beneath the watchful eye of historic Fort Barrington, the hotel which opened in May has now also launched the first overwater bungalows on the Caribbean island. Each Chairman Overwater Bungalow in the 294-room hotel is equipped with a king-size bed, dining room and living room, infinity plunge pool, overwater hammock, a jacuzzi soaker tub, personal butler and private ocean entry. Guests also have a plethora of amenities available to them such as private car transfers, butler services, sunset mixology, personal fitness and yoga classes.
Hammock Cove Resort & Spa opening doors in Antigua in December
The Hammock Cove Resort and Spa will be one of Antigua's newest luxury resorts. The all-inclusive, adults-only resort is set to open in December 2019. The resort is located just a short walk from the UNESCO World Heritage Site Devils Bridge National Park and sits on its own private, protected bay which glistens with turquoise water. The resort highlights include its free-standing villas with modern but authentic Caribbean décor featuring a balcony, an infinity-edge plunge pool, spa style bathroom and liquor bar. The resort also offers two restaurants, with world class menus, and craft beers. The spa at the resort offers a wide array of one of a kind body and beauty treatments, a yoga pavilion, fitness centre, and wellness activities.
The Great House Antigua is expanding
The Great House Antigua is opening its new cottage suites in November 2019. The Great House is a 350-year-old sugar plantation which has recently undergone renovation and building work. located on 26 acres of lush tropical gardens, it currently features four suites. In November, four new Oasis Garden suite cottages will open doors. The new cottages will feature private terraces and each will be equipped with air-conditioning, ceiling fans, mini fridges and his and her showers. The décor of the cottages is inspired by traditional Caribbean cottages and features vibrant hues topped with traditional Antiguan pyramid roofs.
EXCURSIONS
New biking, hiking and kayaking tours from Triflexcursion
Triflex Tours offers a unique way to experience Antigua through biking, hiking and kayaking. The Fort James Tour allows visitors go on a three-hour biking, hiking and kayaking tour to Fort James National Park. Adventure seekers will cycle through St Johns, kayak through the mangrove reserve then hop back on the bikes and cycle to Fort James National Park where visitors will be rewarded with some relaxation time on the beach. All tours are guided and can be a combination of all three activities. Price for the tour start form £47 per person.
Scooter Snorkelling on Galleon Beach
Scooter Snorkelling is another great way to explore the island but this time underwater. The scooter is a motorised snorkelling equipment which lets users 'drive' through the stunning waters. This allows for maximum focus on the diverse marine life that Galleon Beach offers. An experienced guide accompanies all tours and demonstrates how to use the equipment ahead of the session. Snorkellers will be shown the variety of species that inhabit the waters such as sea turtles, sting rays, sea cucumbers, conch, hermit crabs, and an abundance of tropical fish. Prices start from £78 per adult and £72 per child.
CAMPAIGN UPDATES
Antigua's summer campaign #WhatCoolLooksLike is in full swing
Earlier this year the Antigua & Barbuda Tourism Authority unveiled its new global summer campaign, #WhatCoolLooksLike. The positioning seeks to highlight Antigua & Barbuda's destination USPs and overarching value proposition of affordable luxury, buttressed by key pillars such as sailing, heritage, beach experiences and cuisine. The multi-faceted summer campaign includes a combination of traditional and digital media and will utilise a variety of tactical trade and consumer activations to ensure the success of the initiative.
In celebration of the #WhatCoolLooksLike campaign the Antigua & Barbuda Tourism Authority brought a dose of Caribbean cool with ice cream delivery to the UK's trade and media industry. The ice cream delivery started with a visit to Travel Weekly'soffice in Victoria before the cool-cab made its way to London's Vogue House, home to Conde Nast titles Tatler, GQ and CN Traveller. The last stop for the day was at the Virgin Atlantic and Virgin Holidays offices. The #WhatCoolLooksLike campaign also offers consumers major savings on holiday to Antigua and Barbuda until October this year.
Antigua celebrates romance with Mills and Boon
The Antigua and Barbuda Tourism Authority has partnered with romance publishers, Mills & Boon, who have produced five short stories about finding love in beautiful Antigua and Barbuda. Mills & Boon is the UK's market leader in romance and fiction books. The collaboration with the publisher was part of the continues promotion of June as the month of romance for the destination. The stories highlight Antigua and Barbuda's charm as a sailing and yachting destination. There are features of the UNESCO World Heritage site encompassing Nelson's Dockyard and Shirley Heights – known for its amazing Sunday Sunset Party. Popular local restaurant Dennis' on stunning Ffryes Beach, the beautiful Mamora Bay, the wondrous North Sound Marine Park, snorkelling and hiking excursions also received mentions throughout the book.
DATES FOR THE DIARY
Francis Nunes Jr. Memorial Tournament 2019 – 27th – 28th September 2019
This tournament brings everyone together to celebrate all things food and family. The tournament takes place at Nelson's Dockyard, English Harbour where skilled fishermen can show off their talent. There will also be a cook-off competition where eight teams ​will have 30 minutes to ​light a fire, ​prepare and cook ​their fish​ and present the dishes to the judges. For those who are not participating in the competitions, there will be an abundance of food stalls serving a variety of Antiguan seafood specials.
Independence Festival – 1st November
The Independence Day celebrations last from the end of October to the beginning of November. Throughout the festival, there are activities such as competitions, parades, expos, and food fairs. Buildings are decorated in the distinctive yellow and red colours. The festival celebrates the 38th anniversary of Antigua and Barbuda's independence from Great Britain.
Jolly Harbour Yacht Club Annual Regatta – 16th – 17th November 2019
The Annual Regatta takes place in November every year. During the regatta, the boats are divided into various classes such as Racing and Cruising and takes places in the waters outside Jolly Harbour and in Hermitage Bay.