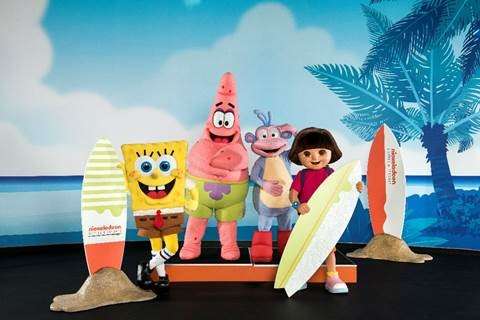 Join beloved Nickelodeon character SpongeBob SquarePants at his birthday bash at the award-winning, five-star Nickelodeon Hotels & Resorts Punta Cana, starting this summer through the remainder of the year. In celebration of the 20th anniversary of the world's most lovable sponge and his starfish sidekick, Best Year Ever is a one-of-a-kind vacation experience in paradise, sure to thrill Nickelodeon fans and luxe resort lovers of all ages. Captivating weekly celebrations and special experiences include early check-in, fun-filled poolside activities and games at Aqua Nick, and surprise opportunities to get up close and personal with SpongeBob and friends.
Located on the golden sands of the Uvero Alto beach, Nickelodeon Hotels & Resorts Punta Cana has re-imagined the art of hospitality to deliver delightful twists including Surprise Slimings and unexpected visits from beloved Nickelodeon characters. Combined with world-class dining, sleek modern design and innovative amenities, the resort offers an unforgettable getaway in picturesque surroundings.
In true Nickelodeon fashion, guests are invited to join in the birthday festivities and make it the Best Year Ever with an array of exclusive, fun family activities, including SpongeBob & Patrick Meet and Greets with character flash mobs and the opportunity to participate in a "make your own drink" competition; Family Disco Dance Parties at Plaza Orange, where special-edition Slime Smoothies are offered at the Frio Frio cart as part of the resort's award-winning Gourmet Inclusive® Experience; SpongeBob Edition of Nick Live Poolside where guests show off their competitive side with SpongeBob-themed contests at Aqua Nick, and a once-in-a-lifetime chance to peek inside The Pineapple, a 2,292-square-foot villa inspired by SpongeBob's famed Bikini Bottom abode during The Pineapple Villa Open House.
Nickelodeon's first-ever international property features 208 oversized suites in seven styles, including the option for swim-up suites. Dining is an art and a pleasure at eight different Gourmet Inclusive® restaurants, one Gourmet Corner, two bars and lounges, and the Doppio Coffee Shop, which offer worldly cuisine and feature the freshest and finest ingredients.
At the heart of the resort is the Nickelodeon Place with areas to tickle the senses of kids and adults alike, including the over-the-top water experience at Aqua Nick; Character Central, where guests can meet their favorite Nickelodeon characters throughout the day; and Just Kiddin', all playful and luxurious options for parents and children alike. Adventures can be balanced with relaxation thanks to Vassa Spa where guests are able to escape into one of five beautifully appointed treatment suites, couple's suites, and the signature "perfectly pink" treatment program, available for young visitors.
For more information on the SpongeBob Best Year Ever vacation, please visit https://www.nickresortpuntacana.com/nick-punta-cana-savings.