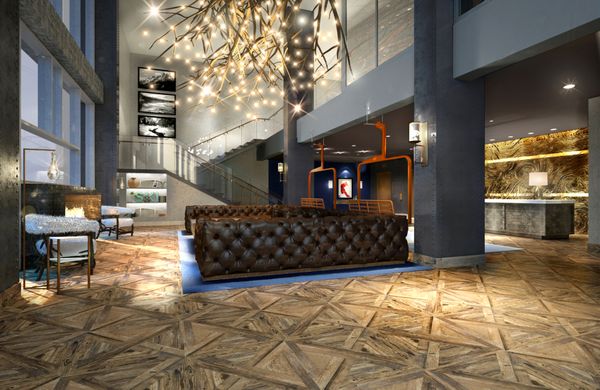 The Josie Hotel (The Josie), a Noble House Hotels & Resorts property in partnership with William Cole Companies, is set to open its doors on November 28, 2018, transforming Rossland into one of North America's major ski destinations. Located in Rossland, British Columbia, The Josie is the region's first boutique hotel of its kind and a true ski-in, ski-out property, providing luxury accommodation and an authentic mountain experience, just a few convenient steps from RED Mountain Resort's (RED) slopes.
The new destination hotel, named after one of the town's most notable mines, the Josie Mine, is situated at the base of RED, and the first stop along Canada's world-renowned Powder Highway, in the heart of the West Kootenays. Contemporary in its design, amenities and culinary philosophy, The Josie's 106 stylishly-appointed one-bedroom suites, guest rooms and studio suites offer luxurious bedding, spacious bathrooms and relaxing lounge areas, with all rooms boasting unrivalled vistas of RED and the surrounding Rossland range.
Culinary
With Chef Marc-André Coquette at the helm, The Josie's full-service dining establishment, 
The Velvet Restaurant and Lounge
 (The Velvet), will represent the first gastronomic offering of its kind in both Rossland and the West Kootenay region. With a focus on exciting, locally-inspired craft cooking, the culinary team is working with a dedicated community of local suppliers, farmers, producers and vineyards. Welcoming hotel guests and locals alike, the menu houses a subtle French influence and offers a diverse range of dishes, including vegetarian, vegan and gluten-free options.
Leisure and Locale
The Josie's surroundings are a mecca for adventure, with RED boasting nearly 2,877 acres of pristine, unfettered terrain. Throughout winter, the hotel's prime location offers guests unprecedented access to cat skiing, snowshoeing, fat biking, cross country skiing, curling, ice skating and hockey. RED was recently named as one of the best places in the world to visit by The NY Times and was also listed within the Top 20 resorts in North America for skiable terrain. The Josie will be equipped with a dedicated ski concierge, providing in-depth, local knowledge to guide guests through that 'epic day', taking advantage of RED's average annual snowfall of over 7.6 meters. Summer outdoor enthusiasts can experience Rossland's scenic hiking, fly fishing and lake fishing, horseback riding and mountain biking on more than 200 kilometres of perfectly maintained trails.
Spa and Wellness
Guests seeking a relaxing escape, or some post-adventure pampering, can unwind in the hotel's intimate spa and enjoy a curated menu of sensorial wellness treatments. The hotel's premier fitness facility will offer cardio and strength-training equipment. A mountainside pool will join the luxury amenities in 2019.
"Whether seeking adventure or relaxation, people visit Rossland to escape life's fast pace and surroundings", says Mark Bell, General Manager of The Josie. "We are thrilled to be opening our doors to the people of Rossland, and we look forward to welcoming our visitors. The Josie was built to offer the region's first luxury, boutique accommodation, while capturing the warm, spirited, hospitable and adventurous personality of the town. We feel privileged to be a part of Rossland's growth as a unique Canadian destination."