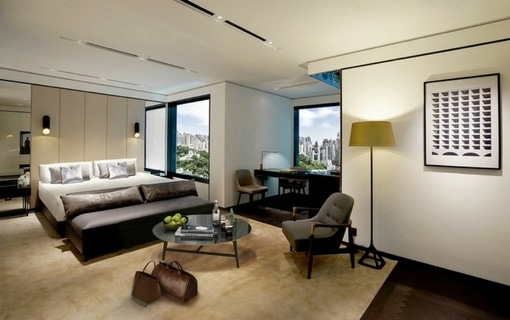 We're delighted to share that The Murray, Hong Kong, a Niccolo Hotel has opened today, on Cotton Tree Drive in Central.
As well as being the first significant new luxury hotel to open in Hong Kong for several years, The Murray is breathing new life into one of Hong Kong's most iconic and historic buildings. The tall white landmark structure, with its distinctive arches and unique recessed windows, was built in 1969 and has since won many awards for its ground-breaking and energy-efficient design.
World-renowned architects Foster+Partners have been engaged as designers for the project, charged with adapting the original 1969 design by British architect Ron Phillips. With its unique location in a stand-alone building positioned between the Central business district and the green oasis of Hong Kong Park, the 336-room hotel offers a sophisticated, urban chic sanctuary in the heart of the city. Among its unique features is a stunning rooftop bar with some of the most breathtaking views of the city. A series of signature restaurants are also being planned.