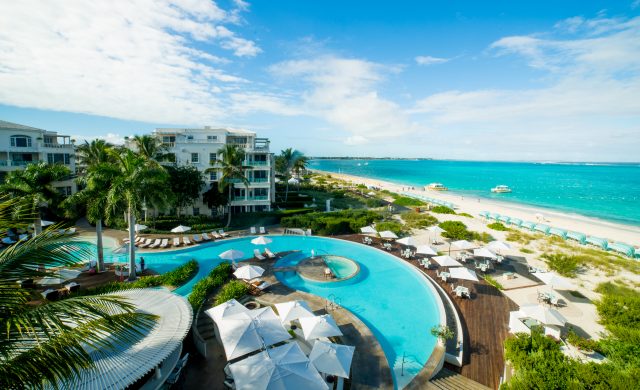 If you are looking for a dream vacation, the Regent Palms in the Turks and Caicos Islands is a wise choice. Within the hotel industry, the name Regent is associated with opulence, exceptional client services and superior standards in guest accommodations, and the Regent Palms is certainly no exception. Sitting regally on a vast stretch of white sand and blue waters, the exclusive Regent Palms Resort is an all suites destination and with only 72 suites available, each guest receives highly personalized services.
The Regent Palms is an encompassing beachfront resort, offering anything and everything you could ever need. Unless you want to wander into town for sightseeing, there is really no need to leave the property. The pride and joy and heart of The Palms Turks and Caicos is The Mansion and it is the heart of the resort that offers a world class dining room, palatial ballroom, luxury goods boutiques and breathtaking formal gardens. The resort includes a 25,000 square foot spa, two signature restaurants and every amenity imaginable. The opulent guest suites are decadent yet comfortable, contemporary yet rejuvenating and each features hand tufted beds, wet bar, safe, high speed internet, cable television, a spectacular balcony terrace and butler service upon request. For the very discerning guest, there are 8 exquisite penthouse suites available with vaulted ceilings, travertine terraces, and a private sun suite with Jacuzzi and outdoor shower.
Just 10 minutes from the airport or the marina, in the Providenciales region of the Turks and Caicos Islands, the Regent Palms is conveniently located close to attractions and shops and yet private enough to offer guests' an unforgettable and intimate holiday.
THE REGENT PALMS: http://www.regenthotels.com/thepalms