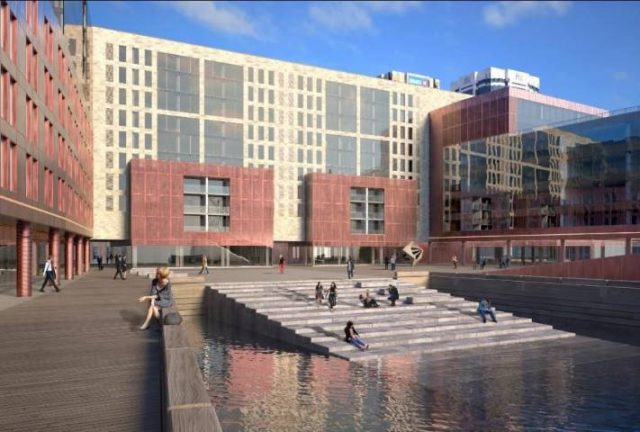 Muir, Autograph Collection opens on the Halifax waterfront in the summer of 2021, promising a refined, distinctly Nova Scotian hospitality experience with stunning waterfront views and unprecedented access to the Atlantic Ocean.
Muir (Scottish Gaelic for 'sea') is located on the vibrant Halifax waterfront as the cornerstone of Queen's Marque, a new urban waterfront district in the absolute centre of downtown Halifax. Inspired by Nova Scotia's culture, character and enduring spirit, Muir strikes a rare balance between tradition and modernity. Envisioned, developed and operated by The Armour Group, and designed by celebrated Nova Scotian architecture practice MacKay-Lyons Sweetapple Architects, Muir is an example of 'Born of this Place' design, honouring character, materiality and heritage through the art of architecture.
"Muir simply could not exist anywhere else in the world," said Scott Armour McCrea, President and CEO of The Armour Group. "From the moment of arrival, you'll feel an indelible sense of place. Every moment at Muir is considered and will be impeccably delivered."
The 'Born of this Place' narrative is reflected in 'marine-inspired' forms that jut dramatically above and over the ocean and continue through the inspired design of Muir's interiors, which were designed by Canada's acclaimed Studio Munge. Muir is a celebration of honest design created with premium, authentic materials and quality craftsmanship. Bespoke furniture and lighting, designed and crafted in Canada, reflect a modern interpretation of East Coast design and offers comfort, productivity and a distinct quality of warmth and welcome. Each guestroom proudly features local original art and virtually every room has captivating waterfront views. Muir's amenities, services and experiences are thoughtful and distinctive. Business travel is enhanced with high-quality food and beverage venues, exclusive car and driver service, a central business district location, complimentary meeting rooms, and affiliation with Marriott Bonvoy. The ultra-premium Wellness Centre is equipped with vitality and cold plunge pools, a halotherapy salt room, high-performance equipment and workout studios.
Dining selections are curated and convenient, including Drift Salon which draws on local, seasonal ingredients to create modern, surprising interpretations of traditional Atlantic Canadian fare. From early breakfast to an evening nightcap, Drift is a culinary destination where guests and locals connect. A 'secret' speakeasy provides an exclusive 'guests only' experience, complete with a breathtaking waterfront terrace. Additional creative culinary options are included within the Queen's Marque district. Unique to Muir, guests can browse Muir's Art Gallery, explore the extensive multi-million dollar public art collection throughout Queen's Marque, and for an entirely different perspective, climb aboard Muir's yacht or motorboat and see a side of this much-loved waterfront city locals know best. Muir is the first hotel in Nova Scotia to be affiliated with Marriott International's Autograph Collection, a curated collection of the world's most distinctive independent hotels, hand-selected for their inherent craft and distinct perspectives on design and hospitality.
"Whether you are travelling for business or for leisure, Muir offers something truly remarkable. It is an experience that is as singular in style, character, and spirit as the place that inspired it and will be a true cultural beacon for Halifax and beyond," said Mr.McCrea. For more information on Muir visit Muirhotel.com