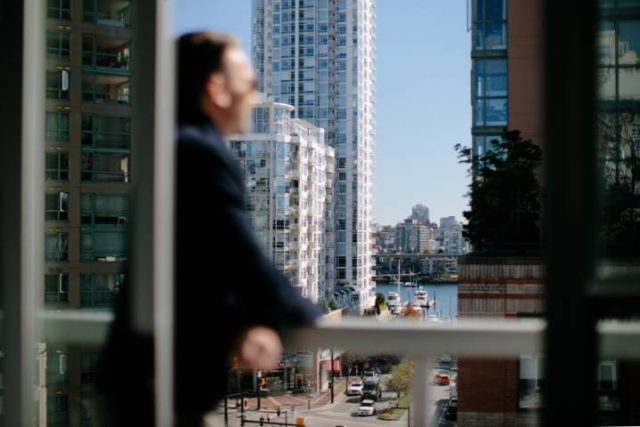 The style, sparkle and fun of Yaletown's signature hotel experience is back in the neighbourhood this fall, as OPUS Vancouver reopens once again, with new General Manager Sarah Vallely at the helm.
A top pick with travellers and locals alike since it first opened in the city's most buzzworthy neighbourhood, OPUS Vancouver continues to set the boutique hotel bar. Guests fall hard for its exceptional service, luxury amenities and boldly beautiful style, exemplified by guestrooms designed with five muses — and their distinctive personalities — in mind. Whether it's modern minimalism, daring drama, or artful eclecticism, there's a style to suit every taste, but the thoughtful details are always consistent: Dyson hairdryers, luxury bedding, build-your-own minibars, complimentary luxury house car service and cruiser bikes for wheeling around the city's iconic Seawall, located just steps away.
"From the moment I walked through the front door, I fell in love with both the hotel and the brand," says Vallely, who joined OPUS Vancouver in 2017 as Director of Sales following a decade working with Four Season Hotels & Resorts, and is now delighted to be assuming the role of General Manager. Having grown up in the hotel business, she has followed in her father's footsteps, the acclaimed hotelier Stephen J. Peters, and at 35 years of age, Sarah is the youngest female GM leading a boutique hotel in the country. "This role is a dream come true. I've been fortunate to have worked with some of the best in the business but the team at OPUS is truly second to none. Together, we have a unique opportunity to re-launch the property, and take the OPUS experience to a whole new level. The future of travel is bright, and I can't wait to see what's in store for us." 
Reopening along with the hotel are Capo & The Spritz: the former, a true neighbourhood pizzeria, and the latter, a cozy, sophisticated cocktail bar nestled just off the lobby. A collaboration between OPUS Vancouver and Autostrada Hospitality, Capo & The Spritz were all set to delight locals and out-of-towners in Summer 2020, but the launch had to be rescheduled because of the pandemic. Diners will find Chef Evan Morgan's flavour-forward Italian fare well worth the wait, while guests who slip into seats in The Spritz will enjoy classic cocktails, as well as original libations created in homage to the romance and craftsmanship of Italy's aperitivo culture under the creative direction of Bar Manager, Jessica Hofmann.
In celebration of the hotel's re-opening, guests are invited to enjoy an exclusive Pancakes & Parking offer, inclusive of overnight accommodation, valet parking, daily breakfast and a guaranteed late check-out of 3 p.m., to allow for much-deserved R&R and lazy neighbourhood explorations.  
For more information or to stay up to date on all the latest developments, visit www.opushotel.com