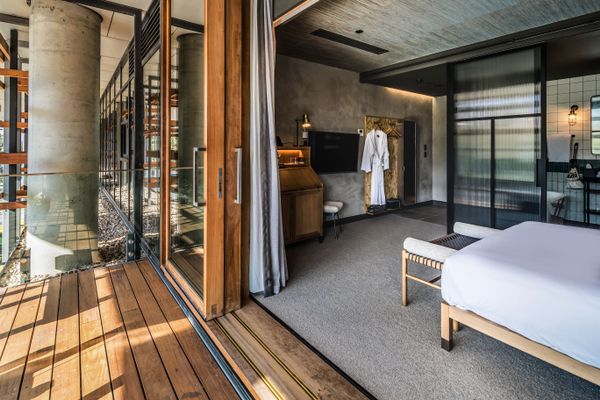 Ovolo Nishi (formerly Hotel Hotel) in Canberra's cultural precinct of NewActon, unveils 17 new hotel rooms. In collaboration with the renowned Australian interior design and architecture firm Luchetti Krelle, these much-anticipated hotel rooms have been curated with Ovolo's ethos of effortless living in mind while extending on the original hotel and room aesthetic.
With 14 Snug Sun rooms, two additional Original Sun rooms and build of the Creative Sun room which includes a charming balcony, these innovative rooms includes all the essential elements without sacrificing the level of design or the quality of the guest's stay, with none of the fallbacks. Sitting under the Cosy Atrium room type, the Snug Sun rooms provide more choice for the corporate traveller while living the ethos of the Nishi building's design. The unveiling on these rooms is part of Ovolo Hotels' $5 million capital investment into the hotel since it's inception in March 2018.
The Snug Sun rooms are sleek, sundrenched intimate spaces for guests to enjoy a rapid yet gratifying retreat; with a queen size bed, single vanity and opulent overhead rain shower included – every nook and cranny provides an element of discovery. Each room features a retro writing desk with enclosed mini bar and an Indian woven day bed doubling as a luggage rack, streamlining the guests' aesthetic and functional needs.
"The new wing has a rustic feel with strong consideration for handcrafted detail," interior designer and Principal of Luchetti Krelle, Rachel Luchetti says.
With ample natural sunlight, each living space is paired with rustic touches of industrial timber and exposed concrete, creating an urban 'concrete jungle' effect in the heart of Canberra city. Accents of brass and leather teemed against a colour palette of soft burgundies and bottle greens will have guests feeling snug in their home away from home.
Ovolo Group Australia COO and CFO, Dave Baswal says, "In true Ovolo style, we're constantly evolving to bring our clients the best, most personalised service we can. In order to do this, we continue to listen and learn to bring our guests what they want and need.
The rooms are compact and include everything our guests could want for a quick overnighter – they're simple yet chic, without skimping on Ovolo's signature style. The ideal stop-off sensation to guests travelling to Canberra."
The affordable price point includes the hotels' famous freebies, which set the hotel apart from its competition. With free breakfast, social hour, in-room mini bar, 24-hour gym and loot bags filled with snacks – it won't be easy to check out and return home the next morning.
A stay at Ovolo Nishi isn't complete without dining at the hotel's renowned bar and restaurant Monster. Within Monster, guests can relax at Monster Salon, which provides an ambient and relaxed atmosphere. Breakfast, lunch and dinner are served surrounded by Murano glass, a crackling fireplace and views of Parliament house.
Set in Canberra's art and cultural precinct NewActon, Ovolo Nishi's extension brings a new and modern approach to business travelling and short stay visitors alike. The 17 new Snug Sun rooms provide the perfect overnight solution to those seeking a short, stylish and snug stay.
For more information visit ovolohotels.com.