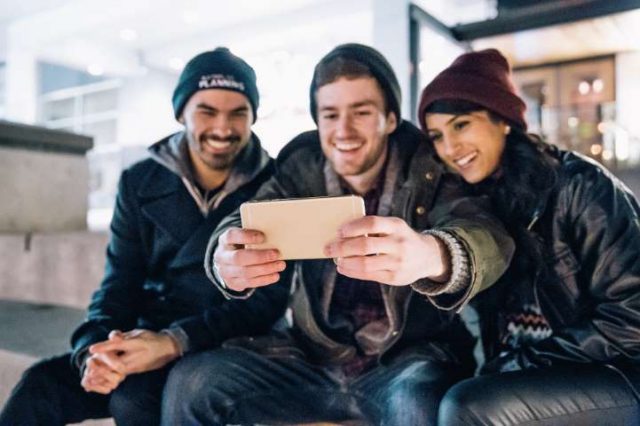 If ever there was a place made for selfies, it's Whistler. This leading ski resort is a natural playground at any time of year, with breathtaking scenery and mountain vistas creating something of a unique backdrop for any social media snap.

The months of summer are arguably among the best for exploring Whistler's famous backcountry and trails. There's also an abundance of activities sure to create unique selfies and make everyone back home jealous.

Here's our pick of the best places to snap a sensational selfie.

Selfie Spot 1: Forged Axe Throwing
The rise of axe throwing around the world would surely make those founding lumberjacks mighty proud. The popularity of this quintessential Canadian pastime has made it a sport in its own right, as well as a great party idea. Forged Axe Throwing in Whistler is the ideal place to learn how to throw, and the venue has recently been honoured for offering the Best Service Experience (Small Business Category) at the Whistler Excellence Awards.

Selfie Spot 2: Train Wreck Hike
The legendary train wreck hike is a must visit. In 1956, a train derailed on its way toward Vancouver leaving seven boxcars scattered throughout the forest. Artists have since turned the decrepit boxcars into ever-changing works of art, attracting visitors to snap this colorful exhibition. This hike is accessible thanks to a new trail by the municipality that runs over the Cheakamus River via a suspension bridge.
Selfie Spot 3: Joffre Lakes
As one of the most iconic and Instagrammable hikes in the Whistler region, Joffree Lakes is an essential summer selfie spot. The turquoise water surrounded by mountain peaks is a shot you will not want to miss and the unique water coloring comes from "Rockflour" – ground up sediment from right underneath the glacier. While many of the lakes in Whistler are perfect for a summer swim, the water temperature here is a little chilly due to the glacier melt.

Selfie Spot 4: Peak 2 Peak Gondola
The Peak 2 Peak Gondola provides a breathtaking vantage point for those selfies and is open year-round. You'll have time to take in the mountain, forest and valley views as you ride this unique gondola.
Selfie Spot 5: Lost Lake Park
Lost Lake is one of the best places to spend an afternoon, and is walking distance from Whistler village. The multi-use trails circling the lake are ideal for walking or biking amongst the trees too. With picnic tables aplenty, pack some snacks and enjoy a day in the sunshine (if you're travelling in summer of course) while you share some epic pics with your Insta followers. At the north end of the lake, be sure to have your phone ready to take a snap of Blackcomb Mountain in the distance.

Selfie Spot 6: Whistler Biking
Biking is one of the leading summer activities in Whistler, and the Valley Trail is perfect for exploring on foot or by bike. The Valley Trail connects all of Whistler's neighbourhoods from Function Junction in the south to Emerald in the north. With a number of shops in the village renting bikes out by the hour or for the day, grab a Valley Trail map and head off with your phone! While the trail has featured in thousands of Insta photos, no two are the same, so create your own unique memories of this beautiful part of the world.

Selfie Spot 7: Brandywine Falls
Brandywine Falls is one of the most impressive spots in the region and it's just fifteen minutes south of Whistler. Boasting an impressive seventy-meter tall picturesque waterfall, Brandywine Falls Park is a great location to enjoy hiking or mountain biking while you're there.

Selfie Spot 8: Superfly Zipline
Zip lining is one of Whistler's most popular activities, and is also a great way to snap some epic Insta shots. Explore a network of trails and boardwalks that connect the top and bottom of this ziplining adventure, before admiring the stunning views at the top of Cougar Mountain. From there, you'll plummet down the mountain strapped into a harness, on a journey that will take your breath away.

Selfie Spot 9: Whistler Bungee Jumping
There really is no better place to cross a bungee jump off the bucket list than right here in Whistler. Whistler Bungee has an impeccable safety record and operates over the hugely photogenic Cheakamus River. While you might need to get someone else to take the photo for you, it's sure to go down a treat on your social feed.

Selfie Spot 10: Alexander Falls
Located south of Whistler in the Callaghan Valley is the impressive forty-three meter/141 foot Alexander Falls. You can drive right up to the viewing platform or head down to near the edge of the falls to feel the spray and experience the power of the water.