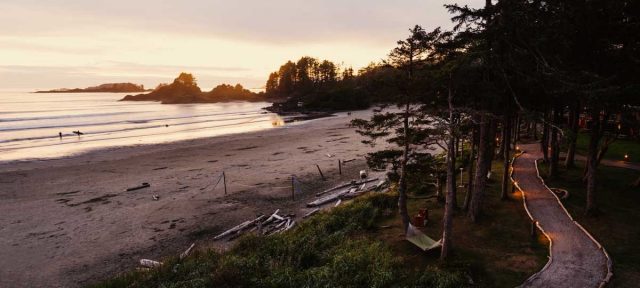 Pacific Sands Beach Resort introduces the role of Environmental Ambassador, significantly expanding the hotel's capacity to implement eco-friendly initiatives and forge partnerships with conservation organizations. This position was appointed to Megan Whyte, current Guest Services Supervisor, who has been an environmental advocate all her life.
Situated in Clayoquot Sound, a UNESCO Biosphere Reserve in Tofino, Pacific Sands Beach Resort is committed to preserving the ecosystem of its rainforest locale. Megan is equally dedicated to conservation – since a young age, she has played an important role in her community, collecting and recycling garbage with her friends. Throughout the next several years, she donated her spare time to charity, raising over $100,000 for various organizations such as SickKids Foundation, for which she embarked on a solo cross-country bike ride from Toronto to Tofino.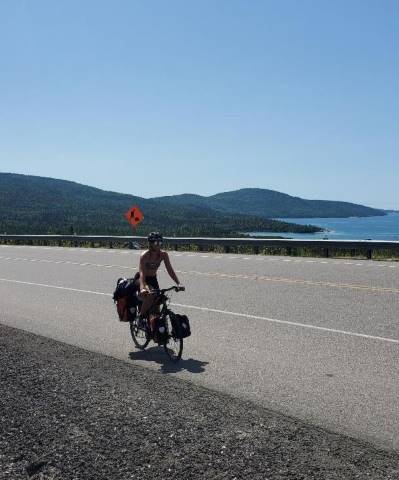 Upon arrival in Tofino, Megan joined Pacific Sands Beach Resort as Guest Services Supervisor. Now, as the resort's first Environmental Ambassador, Megan is implementing several projects – a new community garden that encourages staff to reduce their carbon footprint and signage educating guests on how they can reduce environmental impact during their stay. In addition to this, Megan is creating new sustainability measures, including installing micro-fibre filters for all washing machines in the resort. Megan also leads regular cleanups at local beaches as part of Surfrider Pacific Rim's Love Your Beach Clean, which takes the extra step of analyzing debris to identify the biggest offenders and advocate for systemic change. In addition to these initiatives, the resort donated $10,000 to the campaign and launched an onsite Marine Debris bin, providing guests and beachcombers with a location to drop garbage and recyclables; anyone contributing to the bin is entered into a monthly draw for a two-night stay.
Environmental initiatives extend throughout the guest experience, including local Sea Wench Naturals hair care and body lotions, packaged in eco-friendly pumps; a rainwater catchment system supplying water for all resort operations; a geo-exchange system that uses the earth's temperature to heat and cool the resort; green cleaning products; electric vehicle charging; energy motion sensors; and a help-yourself herb garden that offers easy and packaging-free access to food seasonings, among other offerings.
"Protecting our environment has always been important to me; I'm thrilled and honoured to be the first Environmental Ambassador at Pacific Sands Beach Resort," said Megan. "Currently, I'm focused on expanding the work that has already been done, from partnering with Surfrider Pacific Rim, Coastal Restoration Society and other amazing organizations, to integrating sustainability into every part of resort operations. We also have several new initiatives in the works that will help staff and guests learn about our ecosystem and discover ways to support conservation efforts. I think every hotel and resort should appoint a dedicated role to environmental protection – we're living in an era where it's become a necessary element of business operations."
"We're thrilled to extend Megan's current role at Pacific Sands Beach Resort. She is such an enthusiastic advocate for the environment and the perfect person to serve as our first Environmental Ambassador," said Sabrina Donovan, Operations Manager. "Our resort is already a pioneer in sustainability initiatives, so it's exciting to build on everything we have accomplished and take it one step further. Our goal is that Pacific Sands Beach Resort will serve as a model for other hotels and resorts that aim high and set the bar for sustainability." To learn more about Pacific Sands Beach Resort or to book a stay, visit www.pacificsands.com.