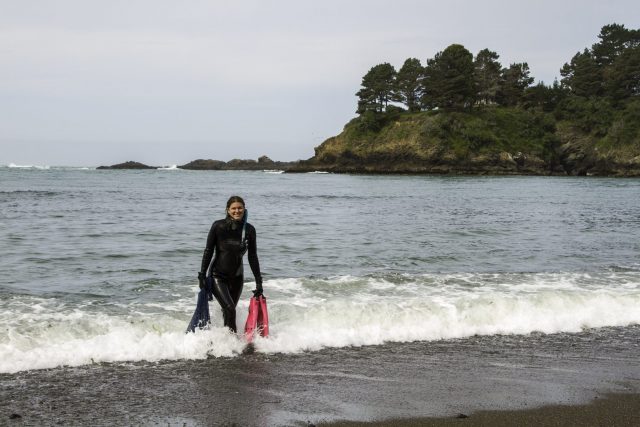 Families today are seeking more than sand and sea to check off the annual vacation list. According to U.S. Travel & World Report+, multigenerational vacations continue to be the leading industry-wide trend in 2017/2018 with education, culture and nature-based trips taking a front seat. National parks are high on the to-do list as well, providinggroups with a serene backdrop to reflect and reconnect.
From luxury lodges to working ranches and cozy cabins kissed by ancient redwoods, Mendocino County is the ideal playground for this growing getaway trend. Sporting 90 miles of classic California shoreline, 24 state and national parks and a creative line-up of lodging options and excursions, this Northern California destination is big on bonding, be it with Mother Nature or Aunt Nellie. www.VisitMendocino.com.
+U.S. Travel & World Report – Nine Travel Trends to Watch in 2017/2018.
JUST ADD WATER
Set along Scenic Highway 1 in the hamlet of Elk (population: 208), the new Harbor House Inn is an ideal buy-out with nine guestrooms, a head-turning chef (Matt Kammerer/Saison, San Francisco), 30-seat restaurant and a line-up of activities keen on keeping kids off the tablet and into the tribe.   Built in 1916 as a luxury escape shrouded by ancient redwood forests, the inn debuts in May 2018 with staggering Pacific views, guestrooms set in a modern palette and bespoke excursions including group fungi foraging, sea kayaking, horseback riding and morning yoga. www.theharborhouseinn.com.
Fort Bragg's newest gem – Noyo Harbor Inn – is ready for its close-up with 15 guestrooms and the added plus of an ideal base for local exploring. Extended families will feel at home here with rich cherry wood interiors, original oil paintings and commanding views of the working harbor. The lively restaurant focuses on fish-to-fork and a variety of seasonal activities – from whale watching to sea kayaking, foraging, hiking and rebooting among the redwoods – round out a visit. In nearby Fort Bragg, scouting Glass Beach, horseback riding at Richochet Ranch or an optional tastingat North Coast Brewing Company is on tap for the adults on board. www.noyoharborinn.com.
For a slice of vintage California beat it to Big Bend Lodge and cabins. Set in northern Mendocino County, the remote resort is the ideal Rx for families seeking a reboot. The private drive delivers nine 1940s cottage-style lodgings with colorful kitschy interiors, decks, barbeques and fully equipped kitchens. Set on the south fork of the Eel River, this is the spot to relive those retro family forays or create new ones. On site is the requisite deep swimming hole, old oak tree swing and miles of meandering river for all-day floats; what's purposely missing are televisions, Wi-Fi and cell service making a stay here truly unplugged. www.bigbendlodge.com.
Pack those boots and a pole and head inland via Mendocino's Inspiration Highway (101) north of Ukiah to Leonard Lake Reserve. Here families can nurture among nature on 4,000 acres of private property and Mendocino County's largest natural lake. Think bass tourneys, naturalist hikes, 'smores and star gazing. A variety of cabins and guest lodgings dot the site, accommodating up to 50. Morning hikes to the nearby falls are a perfect starter, as are day games on the expansive grounds. www.leonardlakereservellc.com.
RENT THE RANCH
Families with fat wallets will find solace along the sea at The Inn at Newport Ranch, a new 2,000-acre private preserve and cattle ranch fusing luxury lodging with off-the-charts pampering.   Set along the Pacific just north of Fort Bragg, the inn offers seven unique guestrooms, an onsite chef and dining room seating 28, daily ATV tours, horseback riding and daily alfresco wine and canapes as the sun sets.  An architectural passion project, the main guesthouse features heavy use of custom redwood paneling up to five feet wide with flooring set in 30-inch old growth redwood planks.  Design standouts include a 20-foot wide walk-in stone fireplace, a building supported by 24 individual redwood trees from base to cathedral-like ceiling and hot tub perched atop of the water tower with commanding views of sea. For children under 14, full two-day buy-out required. www.theinnatnewportranch.com.
At the other end of the dollar drop is Howard Creek Ranch, an 1867 Registered HistoricSite and heavenly hideaway set on 60 oceanfront acres just north of Westport. An original land grant for sheep and cattle farming, today, horses, sheep, llama and pygmy goats graze the pastures. The ultimate family fun camp, the ranch offers award-winning gardens, fireplaces and wood stoves, a 75-foot swinging foot bridge, hot tubs, hiking, sauna, massage, horseback riding and the warm embrace of 1,000-year old redwood trees. On site are nine guest accommodations set in a meandering 1871 farmhouse as well as a smattering of private cottages overlooking the sea with large comfortable beds, antiques and a sumptuous daily cowboy breakfast.www.howardcreekranch.com.
PLOW FOR CHOW
For a return-to-roots foray with a strong farm-to-table ethos, Emandal sits on 1,000 prime acres. Set along three miles of the meandering Eel River, this nature-driven camp is an ideal safety net for families offering seasonal Farm Stays (a lively farm chore program including daily egg gathering, cow milking, berry picking, vegetable harvesting and pickling), Art Camp and Family Camps. The secluded 19 redwood cabins built between 1910 and 1925 set the stage for a fun group environment complete with daily meals, cold spring running water, electricity and absolutely no cell service. The back-to-basics balance includes plenty of time to swim, play games and scout more than 1,000 miles of dedicated hiking trails. www.emandal.com.
Inland in Ukiah Valley, Yokayo Ranch is a laid back California-style working ranch retreat set on 40 pristine acres. Rent the ranch – which can accommodate 20+ overnight – and dig into the adjoining Yokayo Roots Farm, a farm-to-table experience tilled by draft horses, or a day of yoga, hiking and barbeque under the stars.   Nearby, adults can mine the multitude of local wineries, visit the home of Seabiscuit at Ridgewood Ranch or meander deep into the outback to Orr Hot Springs for a soak in full-out serenity. www.yokayoranch.com.
Just two hours north of San Francisco Bay Area in bucolic Potter Valley, the Oak Granary steps up with 300 acres of rolling hills, diverse wildland, mixed conifer forests and a working ranch community driven by nature-based learning. Located one half mile from Mendocino National Forest, visitors can commune with tule elk, giant redwoods and oak savannah or visit the Learning Garden for a lesson about our ecological food chain from seed to table. This nonprofit environmental education center is certain to feed the minds of any budding naturalist. The rustic-chic facilities include a Farm House (sleeps 10), Hill House (sleeps 4) and classic steel dairy barn for larger events. www.oakgranary.org.
INTO THE REDWOODS
Off the tablet and into the woods… late 2017 marked the debut of The Brambles, a contradictory no-camp campground experience set on 12 acres in the heart of an ancient redwood grove. Located in the small enclave of Philo, off wine-centric Highway 128 in Anderson Valley, this new outpost – with a keen eye for the environment – features two original Homestead and Logging Cabins nestled below a towering redwood grove. The Front Door and Back Porch (each sleeps two) offer stunning views of Burly Grove and its most curious feature, the Pachyderm Tree.  Up Mill Ridge and overlooking the lush forest, Faller's Cabin (sleeps two) and the Logger's Cabin (sleeps four) round out the current guest accommodations. Coming soon, guests will bewowed by a creative mix of additional tree houses, bungalows and cabin lodgings set in a late 1800s stick and shingle style architecture sporting a Steampunk design influence. www.themadrones.com/the-brambles.
Continue north and slither into Mendocino Magic, the stop for glamping under the stars. Set on a private 600-acre reserve, sites include hot outdoor showers, solar lighting, queen sized beds with linens and plenty of redwood power. There are 15 diverse camp themes to choose from including Bucket Pond and Bear Mountain, offering just the right Rx for extended tribes ready to dive into dense forests, lily ponds and refreshing streams. www.mendocinomagic.com.
In its second year following a full sell-out, Mendocino Grove is the stop for moderncamping with an edge. Tucked on 37 redwood-rich acres just a quarter mile from the village of Mendocino, this unplug-meets-unreal outpost boasts 60 safari-style tents, fully outfitted comfy queen beds, down comforters, cotton linens and sling back chairs. For larger groups, the Family Tents offer a queen plus twins or bunk beds (sleeps six). Each tent is housed on a wooden platform with a redwood deck, leather butterfly-chairs and enough space to call it your own. Hot showers, gas barbeques, picnic tables, fire rings and activities such as bocce ball, horse shoes, hiking and hammock time are also on tap. www.mendocinogrove.com.
BACKGROUND
Mendocino County welcomes nearly 1.8 million visitors annually who explore its 90 miles of prime Pacific coastline, 90+ wineries and 10 diverse AVAs (earning the highest percentage of organic and biodynamic vineyards in the United States), 24 state/national parklands and 450+ unique accommodations. Straddling scenic Highways 1 and 101, "The Redwood Corridor," the County delivers an ideal vortex of waves, wines and redwoods laced with historic villages and outback adventures. Located 114 mi./184 km. north of San Francisco, the region's gateway airports are San Francisco International (SFO), Oakland International (OAK), Sacramento International Airport (SMF), and Charles M. Schulz-Sonoma County Airport (STS). Visit Mendocino County is a non-profit destination marketing organization designed to enhance the economic vitality of the community by increasing tourism revenue. For more information, visit www.VisitMendocino.com.