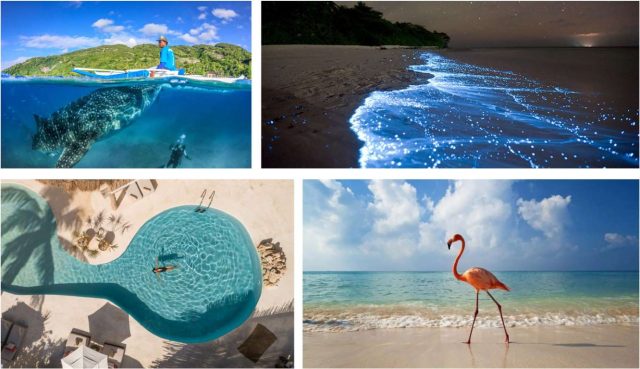 Ser Casasandra, a luxury boutique hotel set in Holbox Island, has decided to offer a 360-degree wildlife experience that celebrates the special ecosystem where the island is located.
The destination is indeed well-known because of the whale shark experience that takes place between May and September in Holbox. Eco-tourism plays a vital role in the community in general, as nature is the heart of Ser Casasandra. Lying within the Yum Balam reserve, in the Yucatán Peninsula, locals have established vast ecological conservation which protects a variety of animals and fishes on the island.

Sandra Perez says: "Holbox is a true paradise where the wildlife is protected. The variety and the magnificence of the species on the island are unique and at Ser Casasandra and we want to celebrate it"

More than 150 species of birds live in the habitat which are the true locals of the island making it a must-see destination for bird watching lovers. The trip to the Bird Island, Passion Island and Yalahau Cenote, where birds live in the natural wild habitat is an incredible experience. Hundreds of flamingos can be spotted on the beach where they enjoy their tranquil life. Snorkelling with turtles and dolphins is another fascinating activity for people appreciating the beauty of nature. Last but not least, btioluminiscencia is a rare natural phenomenon that is possible to witness on the island. It is a biochemical emission of light caused by living organisms, which creates a glowing and twinkling effect in the water.

To celebrate mother nature, Ser Casasandra is offering a wildlife connection experience where guests can enjoy a four-night stay with activities included from June to September.
The package for 2 pax includes:
A whale shark experience where guests are offered the chance to swim and interact with these beautiful 20-meter-long creatures but also meet the local fishermen who will explain the importance of these gentle giants beforehand.
Bioluminescence sea glow swimming expirience
Tour of the three islands for birdwatching and exploring the beauty of local nature
Transfer via car: Cancún – Holbox – Cancún
Ser Casasandra aims to offer bucket list activities for memory seekers. The wildlife juxtaposed near the luxury hotel within a hand's reach away makes this the perfect location for nature lovers. Discover Island history, culture, and wildlife without compromising what luxury has to offer